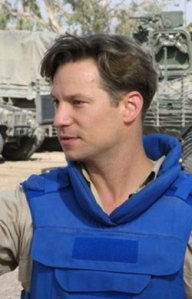 WAR JOURNAL: MY FIVE YEARS IN IRAQ
By Richard Engel
Simon & Schuster, 377 pages, $28
For all its indictment of a foreign policy gone very, very wrong, Richard Engel's memoir of the five years he spent reporting for NBC News in Iraq is surprisingly devoid of blame.
"Many of the mistakes in Iraq were made simply because people could get away with them scot-free," he writes, although he's referring to the contractors and gangs and aspiring rulers on the ground in Iraq, not the Bush administration.
Mr. Engel doesn't go deeply into the controversy surrounding the beginning of the war. Like many of the Iraqis and the Americans he speaks to, he seems to think it's beside the point—this isn't a time for deep reflection, but rather a time for fixing mistakes. That's the attitude that shapes War Journal, which is mostly stories and anecdotes and recollections strung together in chronological order.
Having made his career out of translating complicated situations—Mr. Engel has reported from Cairo, Jerusalem and Beirut—for a newsroom and a public with a short attention span, he knows how to make the war accessible. He's anything but a bystander: He feels the pain of all sides, keeping his eye as much on the Iraqis as on the Americans.
It is—without using this word lightly—heartbreaking.
WAR JOURNAL IS NOT FOR READERS with weak stomachs. There are graphic descriptions of violence and its aftermath. The reader soon senses that Mr. Engel has become inured to the carnage. In one particularly vivid scene, he follows U.S. soldiers into a bakery where people have been murdered. "Perhaps it was compassion fatigue," he writes, because he was more concerned that the angel cakes, which were still in the oven, would burn. "I considered taking a cookie," he writes, "but felt guilty and stopped myself.
Reading his description of the execution of Nicholas Berg, the American civilian beheaded in Baghdad by Abu Musab al-Zarqawi, one realizes that the media—for good reason, perhaps—has been filtering the news from Iraq. Mr. Engel's book is unfiltered: He writes about the dying man's screams.
Mr. Engel's meditations on reporting from a war zone will be of particular interest to his fellow journalists. "We were supposed to be witnesses," he writes when considering the dilemma of whether to carry a gun for protection and whether to have armed security guards—"In Baghdad in April," he writes, "those rules no longer applied." Similarly, NBC wanted to be in compliance with local laws. But the network, Mr. Engel writes, "had to decide how to operate in a country where there were no laws."
NBC was clearly conflicted about Mr. Engel's life in Iraq—news gathering nearly always meant more danger. And as the violence worsened, Mr. Engel was forced to further restrict his activities. "It was medieval," he says of the Mahdi's Army's tactic of "using power drills on their victims knees, chest and skulls." A few sentences later he concludes, "It was now almost impossible to work in Iraq."
As the situation deteriorated in 2005, Mr. Engel came to believe that "Baghdad would eventually hurt or kill me." And yet, he adds, "I wanted to stay." Mr. Engel has a way of boiling things down, surely the result of years of whittling the news down to 90-second spots for the evening and morning shows. "The Iraqis were actors on an American stage," he writes, describing what he calls "the farce" of Saddam Hussein's trial.
About one of his main stringers, he writes, "Ali was becoming addicted to violence."
It's not necessarily a beautifully written book. It's simple and direct. It doesn't linger on complicated characters, although there are many of them. Mr. Engel passes rather quickly over the story of another stringer, Ashraf, who betrayed his employers by faking his own kidnapping and demanding a ransom from NBC. The pace of a journalist's life in Iraq is such that there isn't time to linger.
Perhaps that's why he doesn't assign blame—there isn't time for blame in Mr. Engel's Iraq.
His tone is journalistic, descriptive, easy to read. At times—when Mr. Engel is describing his personal life, for example—it's almost breezy. But mostly, War Journal is a clear-headed chronicle of what we—and Mr. Engel does seem to regard the weight of the mess in Iraq as falling on the entire nation—have been doing there for now more than five years, at tremendous cost.
Mr. Engel refers throughout War Journal to his battered copy of Arabian Nights—the Richard Burton translation. It's the prism through which he views the madness of a country spiraling into civil war. Describing the botched execution of Saddam Hussein—the dictator "died a hero, oddly respected by his American captors"—Mr. Engel concludes, "It only seemed possible in the land of Arabian Nights."
Katharine Jose is deputy political editor of The Observer. She can be reached at kjose@observer.com.