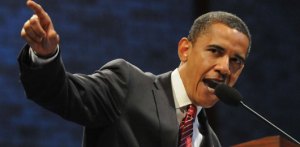 "What they did in the primary was they mastered the art of the elliptical attack," said one former staffer to Hillary Clinton, talking about the Obama campaign. "They are not the virginal angels they presented themselves as."
On this point, Mrs. Clinton's campaign staff and that of Republican nominee John McCain will find themselves in total agreement.
In the weeks since Barack Obama effectively wrapped up the Democratic nomination, he and his campaign have savaged their Republican counterparts, pouncing on errors great and small and drawing attention to a pattern of "confused" remarks by Mr. McCain, who the Obama campaign has accused of "dusting off the tired, old, worn-out ideas of George Bush." They have, in that time, successfully hounded the McCain campaign into cutting loose several top aides; incessantly used a careful selection of Mr. McCain's words to raise doubts both about his understanding of economics and his concern for the welfare of U.S. soldiers in Iraq; and, perhaps most insulting of all, laughed off the Arizona senator's offer to engage in a series of town-hall-style joint appearances with Mr. Obama.
Add to their aggressive tactics an enormous financial advantage, a favorable political climate and lots of adrenaline pumping after an unexpected primary victory, and one remarkable thing becomes clear: This year, it's the Democrat who's shaping up to be the bully.
"It feels great," said Simon Rosenberg, the president of the New Democrat Network who was a young staffer in Bill Clinton's famed 1992 war room. "Look—the Democrats have basically been without a strong single leader since [the Monica Lewinsky scandal in] early 1998."
Chris Lehane, one of the Democratic Party's fiercest operatives, who worked in the Clinton White House and left John Kerry's campaign, reportedly, because it wasn't aggressive enough, said he saw "parallels" between Clinton's war room and the Obama campaign.
Both, he said, believed "that if you got into a knife fight in a telephone booth, you made sure you brought a gun." (On June 13 in Philadelphia, Mr. Obama had said much the same thing: "If they bring a knife to the fight, we bring a gun.")
Mr. Lehane said that the idea of the Obama campaign, as was the case with Mrs. Clinton's primary campaign, was to brand him "as a different kind of Democrat—a Democrat who was playing to win."
In this, Mr. Obama also has the advantage—to the obvious annoyance of the McCain campaign—of a reputation for gentleness that allows him to avoid paying the public costs of running a bare-knuckles campaign. It is, simply put, difficult for people to reconcile his appearance with some of the things that are done in his name.
"He has got a killer instinct, but he has a cool anger, not a hot anger," said Michael Bauer, a Chicago-based bundler for Mr. Obama. "It's a real grit, not an issue of ripping someone's face off. It's 'this is what we are going to do,' and then getting it done."
ON JUNE 11, John Kerry—a Vietnam veteran who was once one of Mr. McCain's closest allies in the Senate—got on a conference call to tell reporters that his colleague from Arizona, essentially, had lost it when it came to Iraq policy.
Reacting to an interview in which Mr. McCain had said that the timing of troops returning from Iraq was "not too important" compared to long-term casualty levels, Mr. Kerry called Mr. McCain "unbelievably out of touch and inconsistent with the needs of Americans and particularly the families of troops who are over there."
In that same call, Mr. Kerry and Obama foreign policy adviser Susan Rice both called Mr. McCain "confused" for mixing up Sunnis and Shiites at a March press conference discussing what groups had received support from Iran.
"He confuses who Iran is training, he confuses what the makeup of Al Qaeda is, he confuses the history going back to 682 of what has happened to Sunni and Shia," Mr. Kerry said on the call. A few seconds later, Ms. Rice added that Mr. McCain had demonstrated a "pattern of confusing the basic facts and reality that pertain to Iraq."
The language was not new. As far back as May 8, when discussing Mr. McCain's decision to point out a Hamas official's supportive words for Mr. Obama's candidacy, Mr. Obama said that Mr. McCain was "losing his bearings."
The campaign has talked routinely since then about "dusting off the tired, old, worn-out ideas of George Bush."
Separately, the Obama campaign has been unusually aggressive in targeting not only Mr. McCain, but his aides.
In May, after Mr. McCain let go of five campaign aides, including his finance co-chair, Tom Loeffler, after intense criticism of their lobbying ties, Mr. Obama boasted, "John McCain now has had to get rid of five of his top advisers because it turns out they're all lobbying, many of them for foreign governments. That's because he practices the same kind of politics that we've grown accustomed to in Washington."
(Tucker Bounds, a spokesman for the McCain campaign, called it "bullyish" to have gone after "a volunteer from another campaign when entirely unprovoked.")