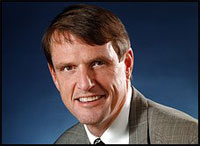 After months of speculation, The Washington Post's executive editor Len Downie finally announced to staff today that he's retiring and that his last day will be Sept. 8. The Post's Howie Kurtz is reporting that the Post's publisher Katharine Weymouth will announce a replacement soon. At a meeting this afternoon, Mr. Downie said, "A new younger publisher needs a new younger editor" and that "it is time for me to retire as editor."
Kurtz reports on the top candidates, widely known in media circles for about a week now:
Those considered to be the strongest contenders for the job are Post Managing Editor Philip Bennett; former Wall Street Journal managing editor Marcus Brauchli, who was ousted in April after Rupert Murdoch took over the paper; and Jonathan Landman, a New York Times deputy managing editor who has run the paper's Metro staff and Week in Review section.