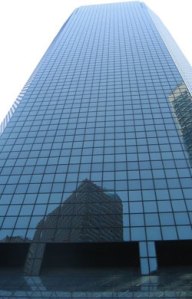 Insurance giant AIG has assumed the remainder of Goldman Sachs' lease at 180 Maiden Lane, which, at 800,000 square feet, is the largest lease transaction so far in 2008.
"We will consolidate several AIG offices in Manhattan to 180 Maiden Lane," said a source familiar with the deal. "Seventy Pine will remain our corporate headquarters."
The move will be executed in phases, beginning this September, with AIG fully occupying the 30 floors by 2011.
It's the largest new leasing transaction of the year. (Advertising firm Saatchi & Saatchi signed a long-term lease for 819,000 square feet at 375 Hudson Street earlier this spring, but that was a renewal.)
Whether this week's news reinvigorates the sluggish office-leasing market, however, remains in question.
Experts seem anything but jubilant.
The vacancy rate downtown rose to 6.3 percent in May, from 5.9 percent in April, according to Colliers ABR's most recent commercial real estate report, which blamed the uptick in part on "Goldman Sachs placing large swaths of availability on the market in preparation [for] its relocation to Battery Park City. It will get worse before it gets better, too, as its current [headquarters at 85 Broad Street] is due to be added to availability later this year. …"
Richard Warshauer, a senior managing director at GVA Williams, had similarly sobering words.
"I call this the vacuum-cleaner effect," he said. "In one stroke, they are taking one large space off the market; in the other case, they are making more space available in several properties.
Mr. Warshauer said the net effect of the AIG lease might actually be negative, with more square footage on the market than before, thanks to the "economics of scale" inherent in consolidating space.
Robert Stella, executive vice president and principal at Cresa, was also rather unimpressed. "It may be a neutral situation," he said. "It's really hard to tell."
drubinstein@observer.com