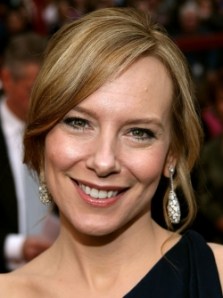 Amy Ryan, the gal who starred as "Beadie" Russell on The Wire, will reprise her role as human resources representative Holly Flax on The Office next season. Ms. Ryan appeared in last year's season finale as a puppy love interested of Steve Carell's character, Michael Scott. "I don't know what they're going to do with the character," Ms. Ryan told Variety, "but as it was written, there's certainly a lot of potential. It's a funny thing to enter a show that you're a great fan of — and it's nice to tell lighter stories. I love the dark, grittier side of life, but it's nice to take a break from that, put a skirt on and brush your hair."
That's what she said! More from Variety:
In the season-four ender, "Goodbye, Toby," Ryan's character replaced long-suffering HR staffer Toby Flenderson, played by Paul Lieberstein.
"Amy gave the character of Holly an openness and matured innocence that exposed a new side of Michael," said Lieberstein, who was just upped to exec producer on the show. "She placed her character right on his level."