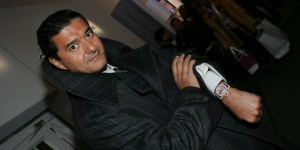 Jacob Arabov, better known as "Jacob the Jeweler," who has made custom jewelry for hip hop artists, Rudy Giuliani, and Bono has been sentenced to 30 months in Detroit today for lying to investigators about a multistate drug ring.
Mr. Arabov was ordered to pay a fine of $2 million to the government and will report to prison on January 15th.
He was originally arrested in June 2006 in his Upper East Side store for conspiring to launder about $270 million in drug profits for a Detroit-based drug ring called the Black Mafia Family. But the charges were later dropped as part of a plea deal.
Mr. Arabov told reporters: "I feel ashamed that I broke the laws of this country, a country that has been so good for me. I will carry this shame for the rest of my life."