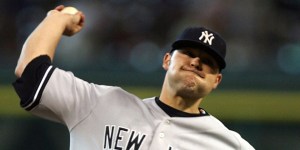 Joba Chamberlain's adjustment to the role of starting pitcher in the major leagues, taking place under the most intense of media glares and in mid-season, has not been noteworthy for the fits and starts along the way. Rather, what is striking is how few of them he has encountered.
Following an 89-pitch outing with a maximum allowance of 95 pitches against the Houston Astros Friday, which equaled six strong innings in a 2-1 New York victory, Chamberlain is now a member of the Yankee rotation without restriction. He has posted a 2.84 ERA in his first three starts. As he displayed in his most recent start, his rawness can provide some revelatory moments—both of the fact that he has been facing major league hitters for less than a year, and that despite that fact, those hitters have a great deal of trouble with even his mistake pitches.
The Astros appeared eager to jump on Chamberlain fastballs early in the count the first time through the order. But while they often guessed correctly, Chamberlain's fastball with movement is a sufficiently difficult pitch that they still couldn't do much with it. On the first pitch of the game, Hunter Pence went after a 93-MPH fastball, and promptly flied out to center field. Kazuo Matsui, on a 2-1 fastball at 92 MPH did the same. And Miguel Tejada, on a first-pitch, 93-MPH fastball, grounded out to second base. Six pitches in, Chamberlain had a scoreless inning in the books.
The Astros were a bit more patient in the second inning, but only a bit. Lance Berkman ran the count to 2-2 on four fastballs, then got jammed on Chamberlain's first slider in the game and flied out to right field. Carlos Lee grounded out to third on an 0-1 slider, which, while up, had sufficient movement to keep Lee from driving it. Chamberlain then fell behind Ty Wigginton by missing with a curveball. His velocity climbed to 96, then 97 on a pair of foul balls to get ahead 1-2. Chamberlain then missed badly with a slider. He came back with the fastball, which fooled Wigginton, but his defensive swing lofted a singled just in front of right fielder Bobby Abreu. No matter—Chamberlain threw a 95-MPH fastball in on Michael Bourn's hands, and jammed him. Bourn's groundout to first base ended the inning.
Chamberlain had his finest pitching moments in the third inning. Brad Ausmus did lead off the inning by hitting an 0-1 slider into center field for a base hit, though it seemed as if Ausmus wanted no part of a Chamberlain fastball and was simply hoping for an off-speed pitch. Next came a sacrifice bunt by pitcher Shawn Chacon—who Chamberlain oddly didn't try to foil with a 98-MPH fastball up, a ludicrously difficult pitch to lay down. But Chamberlain followed with two impressive battles. Against the dangerous Hunter Pence, Chamberlain started him with a sharp slider to get ahead. His next two fastballs, 95 MPH each, were well-placed. On the second one, Pence attempted to swing, but harmlessly grounded out to second base, advancing Ausmus to third.
Then came the at-bat that best showed Chamberlain's advanced pitching ability, against Kazuo Matsui. Chamberlain and Matsui battled for nine pitches. Chamberlain began Matsui with a 79-MPH curveball for a strike. He threw him three curves, three sliders, two fastballs and even a changeup. But Chamberlain did not try to muscle up on a fastball as the at-bat continued. Instead, his final three pitches were a curveball that Matsui didn't chase, a changeup that just missed, and a curveball that would have been strike three, had Matsui not finally succumbed with a groundout.
Chamberlain's chances for success are not so high based simply on his fastball velocity, but rather on his fastball combined with his slider and curveball, both of which are nearly as impressive. Seeing him mix those pitches so well in just his third major-league start bodes well for his future as a starting pitcher.
Chamberlain ran into some trouble in the fourth inning, as his velocity dipped. With one out and one on, Chamberlain threw fastballs on five of six pitches to Carlos Lee, getting one questionable called strike, one foul ball, and four pitches that Lee was happy to watch. An oddly-timed double-steal attempt allowed Chamberlain to pick off the lead runner, though Lee advanced to second. But after getting ahead of Wigginton with a swing and a miss on a terrific slider, Chamberlain reared back for some more fastballs. But at this point in the game, his heater came in at 94, not 99, and when he missed his spot, Wigginton lined a run-scoring single into left field.
Chamberlain may be able to get additional stamina that will keep his fastball humming at peak velocity for seven innings. But if he doesn't, fastballs in his 1-2 inning relief stints that often overpowered hitters, even when missing their targets, will turn into hits. And this likelihood will only increase if he is too reliant on his fastball, letting hitters gear up for it.
He seemed to absorb this lesson in-game. With two on and two out in the fifth inning against Lee, Chamberlain started him off with a terrific curveball that dropped in for a strike at 84 MPH. When his second pitch, a 97-MPH fastball followed, Lee harmlessly flied out to center field.
By the sixth inning, Chamberlain returned to old reliable. He'd thrown 75 pitches through five innings, and as he did in his first two starts, moved away from pitching and into throwing as he neared his pitch limit. All 14 of his sixth-inning pitches were fastballs. Against Wigginton, those pitches ranged in velocity from 95-97, and resulted in a soft groundout to second. Against Michael Bourn, three of six pitches were just 91, and Bourn laced the third 91-MPH offering into right field. Trying to keep Bourn, the National League leader in stolen bases, from swiping another, Chamberlain threw a pitchout—but the ball had too much movement, and sailed past a standing Posada, allowing Bourn to move to second.
But one pitch later, Bourn was thrown out trying to steal third. And Chamberlain, a thoroughbred racing to the finish, hit 95, then 96, then 97 on the gun against an overmatched Ausmus. The final pitch, on the outside corner, Ausmus didn't even try to hit.
For his next start, scheduled for Thursday afternoon at Yankee Stadium, Chamberlain has the luxury of working without a pitch count. With the exception of an approaching pitch limit, Chamberlain has displayed an improved ability to mix his pitches in each successive game. If the lifting of that limit removes the only hurdle to Chamberlain's doing so throughout his outings, he'll become that much tougher.