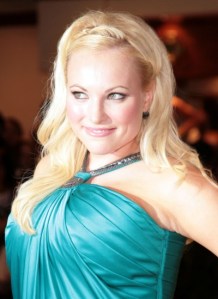 Meghan McCain, who has chronicled her campaign travels alongside her father on her blog McCain Bloggette, is now reportedly penning a children's picture-book about her father, Senator John McCain.
The 23-year-old aspiring first daughter has been updating diligently since 2007, posting photos of her parents goofing around on their private plane and even ones of herself wearing a keffiyeh, the supposed 'terrorist symbol' that chef Rachael Ray has recently been slammed for.
The currently untitled book will be published by Simon & Schuster in September and financial details of the deal have not been made public.
In a statement, Ms. McCain said:
I am truly excited about the opportunity to write a children's book about my father, who is not only a fantastic dad, but also a great American. This book will offer children the unique opportunity to see the character building events that happened over his lifetime, experiences that led up to his current bid to become the future
president of the United States
.
In a 2007 profile of Ms. McCain, Salon writer Michael Scherer asked Senator McCain what he thought of his daughter's blog. Here's what he had to say,
"[It's] very heavy. Some of it is hard for me to understand. A lot of heavy issues, you know. She's having fun, I want her to enjoy the campaign. It's once in a lifetime. And then I want her to get a job."
Hmm. Sounds familiar.