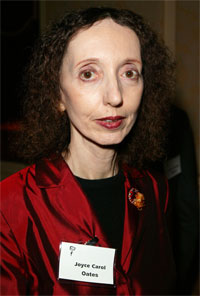 Frighteningly prolific author Joyce Carol Oates talks to Time Magazine's Andrea Sachs about her latest novel, My Sister, My Love: The Intimate Story of Skyler Rampike.
Since the book is a fictionalized take on the murder of JonBenét Ramsey (12 years later and still unsolved), Ms. Sachs asked the author "What do you think of tabloids?" Here's Ms. Oates' response:
I talk about Tabloid Hell in the novel … Basically, I read
the New York Times
,
the New York Times Book Review
,
the New York Review of Books
and
the New Yorker
… One doesn't have an unlimited amount of time for reading everything.
According to Time, My Sister is Ms. Oates' 37th novel so we tend to believe her when she says her time is limited.