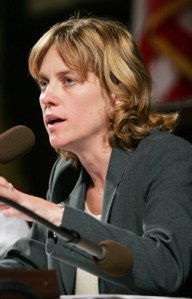 Council member Melinda Katz, a candidate for city comptroller, is having a June 19 fund-raiser that will showcase strong support from black and Latino lawmakers.
The elected officials on the host committee for the event include Yvette Clarke, Jeff Aubry, Jose Peralta, Maria del Carmen Arroyo, Maria Baez, Helen Foster and Melissa Mark Viverito.
One of her strongest opponents is Adolfo Carrion, the only Latino in the race.
It's worth noting that Arroyo, Baez and Foster are also, like Carrion, from the Bronx.
The invitation also includes a number of big real estate people who sit on Katz's finance committee: Douglas Durst, Peter Kalikow and Richard Ravitch. Katz recently said that her connections to the real estate industry are an asset to her.