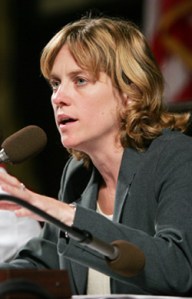 City comptroller candidate Melinda Katz picked up another early union endorsement this morning–this one from the Sheet Metal Workers Local Union 28.
In a public statement, Katz said, "I take great pride in the fact that I have been able to marshal support so early in this campaign." The head of the union, Michael Belluzzi, said his members "need leaders who are not afraid to stand up to special interest groups."
The Katz campaign seems to be making a very deliberate effort to not get a jump-start on the 2009 campaign season, making the case that she's the front-runner early on (and encouraging the field, preemptively, to shrink further).