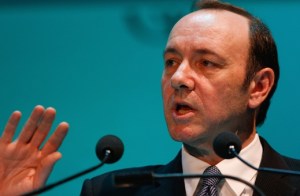 Kevin Spacey will replace Patrick Stewart as the Cameron Mackintosh Visiting Professor of Contemporary Theater at Oxford University's St. Catherine's College, the AP has announced.
The one-year position, which has been in existence for seventeen years, has been held by Sir Ian McKellen, Stephen Sondheim, Arthur Miller, and Stephen Daldry, among others. In his capacity as a professor, Mr. Spacey will lecture students and host workshops and seminars related to contemporary theater.
Mr. Spacey, who spends the majority of his time in London, where he leads the Old Vic Theatre Company, said, "It really is an honor for me to have been invited to follow such illustrious names and take up this role at Oxford. The university is steeped in tradition and has a great heritage in the arts, and I look forward to working with the students and staff."