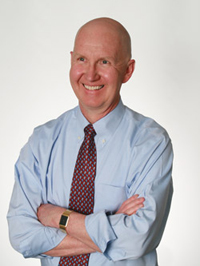 Democratic Cape May Councilman David Kurkowski, who's challenging Republican incumbent Rep. Frank LoBiondo in the 2nd Congressional District, is facing the hard reality of the campaign trail.
So far, he estimates, he's spent most 90% of his time fundraising, and expects to make it just past the $100,000 mark by the Federal Election Commission's June 30th deadline.
"It's my first time doing this, and it's quite a learning experience to realize you have to spend so much time fundraising, but it's part of the reality," he said. "If you want this seat, you have to do this job."
The July 15th filing deadline for FEC reports is do or die time for Kurkowski, who's fought rumors that Democrats, optimistic about the national landscape, were angling to replace him with a more well-known contender like State Sen. Jeff Van Drew (who the Democratic Congressional Campaign Committee courted to run for the seat), State Sen. Jim Whelan, Cumberland County Democratic Chairman/Freeholder Director Lou Magazzu, and Assemblyman Doug Fisher.
When he started his campaign, Kurkowski pledged to raise $1 million by the time it was over. That, according to Magazzu, is the bare minimum he'll need to compete against LoBiondo, whose current cash reserve of $1.4 million makes him the richest Republican congressman in the state.
Magazzu acknowledged there had been some "chatter" about asking Kurkowski to step aside and put someone else in his place, but "nothing really serious." He also noted that he's hired a crack team of operatives.
"Kurkowski's got Obama's pollster and Clinton's mail team, and he hired another guy who was involved I think in the upset in Mississippi," he said. "He started out doing all the right things. You then have to turn that into money and strategy."
But there has been one fundraising obstacle Kurkowski didn't expect: Barack Obama's decision to forego federal campaign funds.
"That's a monkey wrench that I hadn't anticipated, that I'd be competed with the presidential candidate for funds," said Kurkowski. "Some people I've talked to said they'd be willing to give but can't give another dollar."