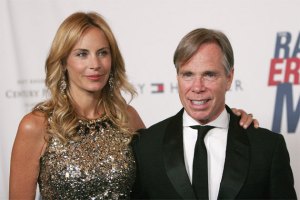 Last night Evelyn and Leonard Lauder hosted an engagement party for Tommy Hilfiger and fiancée Dee Ocleppo at the Neue Gallery on 86th and Fifth Avenue.
New York Social Diary reports that the evening was attended by Condé Nast's part owner Donald Newhouse and wife Susan, Oprah gal pal Gayle King, Cinema Society founder Andrew Saffir, Clive Davis, Russell Simmons, and socialites Bettina Zilkha and Diana Picasso.
Mr. Hilfiger will reportedly wed his fiancée, a former model, on August 8th of this year.
In his typically whimsical write-up, NYSC's David Patrick Columbia writes:
It was neither your run of the mill nor a traditional engagement party. Grown-ups as newlyweds, it was a coming together of business and social associations and had a very executive feel.
Mr. Hilfiger was the most famous face in the room, and almost iconically famous it is. The betrothed couple were dressed the part and looked as if they were beating the heat of the day—he in a well-tailored grey suit and she in a cool looking white lace cotton dress. Looking just a smidge older than the famous image, he still looks boyish and has kept his boyish figure. His bride-to-be looks like a Sunkist baby from either Florida or Southern California. Together they exude 21st century Americana just like the man's famous image: boy next door as tycoon.