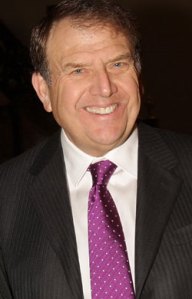 West 57th Street is to its easterly counterpart what a deer-hunting, RV-driving homeowner is to his McMansion-owning neighbor—an embarrassment.
"There's no question there's a disconnect between the retail value on 57th Street east of Fifth Avenue, which is some of the highest in the city, and that which is west of Fifth Avenue, which is not even in the same area code," said Richard LeFrak, chairman, president and CEO of the LeFrak Organization.
But not for long.
It's a "historic inevitability" that, within the next few years, West 57th Street will become home to luxury retail tenants more consistent with East 57th Street, said Robert Freedman, president and CEO of GVA Williams.
Mr. Freedman is basing his predictions on the recent maneuvers of Mr. LeFrak, Vornado Realty Trust, and Sheldon Solow, who, over the past few years, have snapped up and consolidated a number of addresses along West 57th.
"I own 30, 40, 50, 29, 31, 33 and, I think, 49," Mr. LeFrak said.
Mr. LeFrak co-owns 29-33, 49 and 50 with Vornado Realty Trust, a partnership that arose from something of a nonaggression pact.
"We were competing for the same properties, and I'm very friendly with them," Mr. LeFrak said. "I think we both accepted that if there's something on the street [we both want], we'll talk to each other about it."
Why purchase all these buildings, aside from that insatiable lust that afflicts all big-time New York developers?
"Some of the purchases I made were to protect [40 West 57th Street]—I have a 700,000-square-foot building there," Mr. LeFrak said. Not only that, but Mr. LeFrak's offices are there, he's spent $30 million rehabbing it, and he has brought Nobu 57 and a high-end chemist (could a chemist be anything but?) to the ground floor.
Once the leases on many of his shlockier tenants along the avenue expire within the next five years or so, Mr. LeFrak said we can expect to see more of the same.
"I think you'll start seeing some of the tenants on 57th Street that really shouldn't be here go," he said. "You've seen it already. There was a McDonald's on the north side of the street that was removed. I don't want to single out anybody, but I bet you could use your imagination."
We don't want to single anyone out, either. (It's not like we can afford a $1,295 Bridle Check Tote from Burberry, at 9 East 57th Street.)
But a recent walk down 57th Street, from east to west, underscored a vast gulf between the two. The thoroughfare between Madison and Fifth avenues boasted, in addition to Burberry, gilded storefronts by Tourneau, Dior and Yves Saint Laurent. The glitz continued between Fifth and Sixth avenues, with Bulgari and Smythson at the foot of the Crown Building, and Club Monaco across from Bergdorf Goodman.
But then, things began to get, shall we say, less extravagant, with cell-phone outlets, hokey jewelry shops, a Strawberry, a Daffy's, and some decidedly mid-brow eateries. In short, shops better suited for the diamond district or some lesser retail corridor, like, say, 42nd Street.
That, dear friends, won't last for long.
"You have to consolidate the owners, so you have a fully integrated retail strategy, and it takes time," Mr. Freedman said. "It's marinating now."
Jeffrey Roseman, executive vice president and principal at Newmark Knight Frank, agreed: "I don't know if it will replace Madison Avenue for luxury, but it's definitely changing, and for the positive."
drubinstein@observer.com