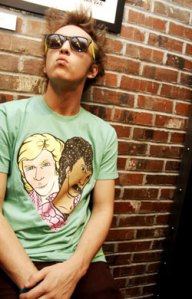 "I've been too high lately to be terrified of anything," Liam McMullan said as he loped down Broadway on a recent afternoon to audition for a remake of the movie Fame. Twenty years old, he wore jeans, a purple T-shirt, beat-up Chuck Taylors and a Batman fanny pack containing a jar of marijuana, a bottle of Excedrin for the migraines he been getting lately, and a cell phone and iPod.
When he was 2 years old, Liam was featured in a VH1 special on children with wild parents—his are nightlife society photographer Patrick McMullan and the artist Laurie Ogle. His godparents are Village Voice gossip columnist Michael Musto and Mudd Club DJ Anita Sarko. His parents brought Liam to Warhol's Factory when he has 3 weeks old. They never married.
Liam spent most of his childhood on the Upper West Side with Mom, whom he affectionately calls a "slacker"; since 15, he's mostly stayed at his dad's round-the-clock photo lab apartment on Eighth Street and Fifth Avenue. As a teenager, Liam traveled to movie premieres, parties and galas at his dad's side, helping out and taking it all in; on his own, he showed up in a Levi's commercial and a Vanity Fair photo spread of young society gents. "I didn't even know what he was doing so much," says Patrick McMullan. "Kid's all fuck around. You try to be supportive. I try not to be bourgeois, I try to get him to follow his enjoyment of life."
College wasn't so much in the picture, though Liam made a point of getting his high-school diploma. ("I saved the money for him to go to college," says McMullan père. "He said, 'Dad, if I were to go to school right now, it would be a waste of your money.'")
"I've always wanted to do lots of things, like direct movies, and write things, and make art, all different types," Liam said. He resembles a skinnier, more feminine version of Marlon Brando, with wispy sideburns and peach fuzz. He speaks in a soft, slow, melodic voice. He's currently recording his first album in a windowless music studio on 30th Street and Eighth Avenue, which he calls the dungeon. At around 10 p.m. on a recent night, he and his collaborator, 33-year-old producer Chris Young, were tinkering with the nine songs they have done so far.
"I'm more than happy to show people what we have," Liam said. "But we can even just make something right now, you know? What do you think we should make a song about?"
How about his childhood?
He nodded, took a few tokes of a glass pipe in the shape of a mushroom, and hopped on his MacBook Air.
Meanwhile, Mr. Young began fooling around with some beats; he studied music at Interlochen Center for the Arts and has spent the past five years recording, mastering the technology. He's filled the dungeon with all the latest equipment. He's done some recording with soap actress and gal-about-town Leven Rambin.
"The way I view Liam is as not just an artist," said Mr. Young. "I think he's more than just a singer type. When you listen to his words, and listen to what he stands for, I find a very common thread between the two of us. We have the same ideas and belief system—which is, basically: Everything is all good, and do what you want, as long as it's nothing bad for me. And everything will be cool. And above all, be creative."
While the two men worked on the new song, Mr. Young's blond, busty, beachy girlfriend was sitting on the couch wearing a tank top and skirt, next to a red-haired girl wearing a sailor's cap and dark shirt and pants. Neither spoke. Mr. Young later told me his girlfriend gives him a sponge bath every morning.
In 15 minutes, Liam was ready with the lyrics. He made his way to the recording booth, a small closet lathered in purple sound-proofing foam. They recently decided to call their first album Purple Foam.
"So go out, take some pictures," sang Liam. "See how much you can grow/ Just go to school, learn about botany/ And go to parties, learn about sociology/ Keep warm inside when it's cold/ Just grow up before you get old."