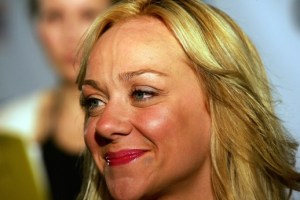 Lifetime has been courting Klum, Gunn and the gays during their makeover, according to the Observer's Doree Shafrir, but now they're going after the riot grrrls.
Well, maybe more like riot grrls (y'know, those punk feminist chicks) and their bread-and-butter demographic, middle-aged moms, with their new show Rita Rocks.
The Hollywood Reporter writes:
Rita stars stars Nicole Sullivan (blondie on King of Queens) as Rita Clements, who, unfulfilled by her harried life as a married working mom, regains her identity by re-creating her glory days as a musician in a garage band. Richard Ruccolo, Tisha Campbell-Martin, Kelly Gould and Raviv Ullman also star.
"Rita" will air as part of a one-hour comedy block alongside off-net sitcom "Reba."
"Our loyal viewers are fans of our comedy programming, and we know they will think Rita rocks too," Lifetime president of entertainment Susanne Daniels said.