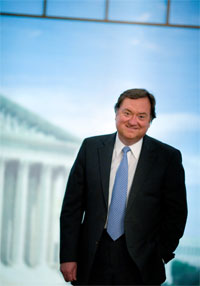 Leon Neyfakh tracks the latest bookish fad: Picking up girls (or boys) using a galley: "This is what happens when someone reads a galley (a.k.a. ARC, or advance reading copy) in public: publishing people take notice and begin to wonder about certain things. There's the galley's provenance, of course. But what about its owner? Where does he work? Does she like the same things I do? Is he single?"
Felix Gillette looks back at the life and career of Tim Russert. "He was shrewd enough to make his shrewdness appealing. ('He was a ruthless guy,' one of Russert's former coworkers told The Observer. 'But he did it in a way so that no one considered him ruthless.')" Plus: Tim Russert, New Yorker.
John Koblin talks to New York's new Culture Editor, Mary Kaye Schilling. "To me, New York magazine is as close to a perfect magazine as you can get," says Ms. Schilling. Plus: The Times' Campbell Robertson is headed to Iraq: Those Damn Mets.
Also in this week's issue: The Hills' Dark Angel, Kelly Cutrone… Mail-phobia… Ruda Dauphin and her friendly circle…. Baseball girls.