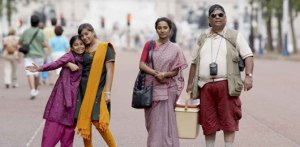 Brick Lane
Running time 102 minutes
Written by Abi Morgan and Laura Jones
Directed by Sarah Gavron
Starring Tannishtha Chatterjee, Satish Kaushik, Christopher Simpson, Zafreen
Sarah Gavron's Brick Lane, from a screenplay by Abi Morgan and Laura Jones, is based on the rapturously received 500-page first novel by Monica Ali. The story begins on a sustained lyrical note as teenage Nazneen (Tannishtha Chatterjee) and her little sister Hasina (Zafreen) chase each other across the sensuously photographed rice paddies next to their home in a village in Bangladesh. The musical accompaniment is a melodious Bangladeshi children's song composed by Jocelyn Pook. The partial and very ironic lyrics (as it turns out) promise all Bangladeshi little girls: "Swing little girl on your swing/ Comb your beautiful hair/ Your bridegroom will come soon/ And then he will take you away."
As Nazneen and her sister splash joyously in a stream with some boys, their distraught mother walks toward the nearby river, into which she descends carrying a large pot tied around her neck. She fills the pot with water so that it will drag her down into the depths, which it does. When Nazneen sees her mother's body floating on the surface of the water, her childhood comes abruptly to an end.
Soon after, Nazneen's father tells her that she is to be married to an older man in London. Nazneen, now 17, is bedecked in a bright yellow sari, and adorned with traditional marriage cosmetics. The two sisters walk hand in hand to the river, where a little boat will begin her long journey to a new life in a new continent, as her little sister gazes wistfully after her.
The narrative then flashes-forward 16 years to a long-married Nazneen, walking with a shopping bag past the stores, the mosque and the curry houses of Brick Lane, a street in the Bangladesh community of East London, which has for over 400 years served as the refuge for of the many victims of international troubles of one kind or another. Nazneen, now in her 30s, ends her walk at a dismal housing complex, where she shares a flat with her two daughters, 14-year-old Shahana (Naeema Begum) and 10-year-old Bibi (Lana Rahman), and her pompously self-satisfied husband, Chanu (Satish Kaushik).
Nazneen keeps her own counsel as a dutiful Bangladeshi wife, but her older daughter has become openly rebellious against Chanu, whose boastfulness is intended to conceal the increasingly obvious fact that he is a loser in the power games of London life. Nazneen is in despair over her family's future with the ever-gullible Chanu. She cultivates a friendship with a comparatively liberated countrywomen, Razia (Harvey Virdi), who kindly gives Nazneen an old sewing machine with which she can earn her own living.
A brief affair with a young deliveryman, Karim (Christopher Simpson), ensues, and for a short interval Nazneen is blissfully in love for the first time in her life. But when Karim grows a beard and becomes increasingly militant in his political protests against the ethnic bigotry surrounding the Bangladeshi community, Nazneen decides that her future is with neither Karim nor Chanu—who stubbornly insists on returning to Bangladesh with or without his family, which is united against him in its desire to remain in England.
The film ends as lyrically as it began, with Nazneen and her daughter roiling joyously in the first London snow. Ms. Chatterjee's usually wistful eyes shine with delight as she contemplates a truly new life. We almost forget Nazneen's heartbreak when she first discovered that her younger sister had fallen into a life of prostitution back in Bangladesh.
asarris@observer.com