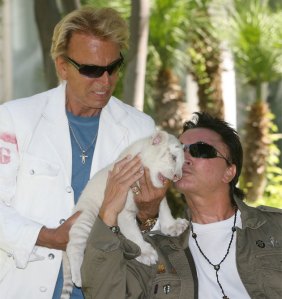 This was a tough weekend for a certain segment within the media community, but together, they got through it.
It started out with excitement on Friday: A journalistic fact-finding mission to Las Vegas. But even before the plane took off, some key members of the expedition almost didn't make it. Thankfully, they arrived safely and twittered word that others had arrived as well (perhaps a bit blurry), despite the fact that the trip's sponsors did not pay for their transportation to the airport.
During the flight, something happened on the ground involving someone in media, which they agreed was terrible. Then word that something even worse happened.
Thankfully, neither event put a damper on the fun. The next 36 hours were a bit of a blur. Money was lost; White suits soaked. Some of those left behind burned with resentment, both real and ironical. The next morning's breakfast was bad—in fact, the worst ever.
The flight back was chaotic and short on pizza. Bad weather rerouted it to Rochester. That aforementioned bad media news kept coming up, but it didn't damper the mood.
Now some are trying to act like Monday Morning Buzz Kills, but those who were there know this trip was different. It was a classic affirmation of everything right and true and decent in the national character. It was a gross, physical salute to the fantastic possibilities of life in this country—but only for those with true grit. And they were chock full of that.