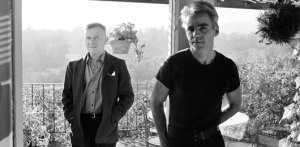 Chris & Don. A Love Story
Running Time 90 minutes
Directed by Guido Santi and Tina Mascara
Chris & Don. A Love Story is a poignant and thoughtful documentary about the astonishing and transforming love affair between the world-famous writer Christopher Isherwood and the highly regarded artist Don Bachardy. At a headline-grabbing time for same-sex relationships, heading for the altar, it seems more relevant than ever. And the couple it's about are rather extraordinary even without the civics lesson.
Chris was a British novelist whose diaries and recollections of the Weimar era leading up to World War II, compiled in an acclaimed book called Berlin Stories, were the basis for both the play I Am a Camera and the musical Cabaret. He was already an established man of letters 30 years older than Don when he met the gawky, sexy, naïve 18-year-old on the beach at Malibu in 1952. A love at first sight that dared not speak its name aloud in the early '50s lasted until Isherwood's death, in 1986. It was a relationship that surpassed all doubts, worries and obstacles, and survived three decades of indignities, social homophobia and Hollywood gossip columns. At the end, it had also erased the parameters of togetherness. Chris and Don were as good as married, and they didn't need to exchange vows, sign a piece of paper or hire a choir singing the "Ave Maria" to prove it. They were definitely ahead of their time.
Combing Isherwood's diaries for guidance, co-directors Guido Santi and Tina Mascara spent 10 years meticulously putting this film together. Out of so much sweat and dedication comes a deeply affecting love story of a passion that turned to trust. With fatherly devotion, Chris practically raised the sun-kissed California teen, and Don loved him like a father, mentor, educator, teacher and savior. They didn't even own a dog because Chris was reluctant to share his affection with something other than Don. We trace his arrival in America in 1939, fleeing from the snow and grime of New York to the heat and rat-infested palm trees of Hollywood, where he continued to write like a camera taking pictures. "Someday this will have to be developed," he said. He was spiritual enough to become a monk, but he was also too spirited (and horny) to give up boys. And Don talks about surrendering to the advances of a man who was almost 50 when they met, the intimacy of their lives and the thirst for knowledge that never wavered, with such blasé acceptance that it never seems decadent. The word "pedophilia" is not in his vocabulary.
And so, through his tutor-guru-guide, Don entered the world beyond the claustrophobic confines of working-class Los Angeles. He rubbed elbows with Tennessee Williams, Truman Capote, Igor Stravinsky and Somerset Maugham; with Chris at his side, he saw the world. In Tangier, he smoked his first quality, mind-expanding Moroccan kief at 21 while visiting Paul Bowles. In Paris, he imitates the Hunchback in the shadow of Notre Dame. In Key West, he falls for Anna Magnani while she's shooting The Rose Tattoo. Finally, when the time came for the young man who believed nobody liked him for himself to prove his worth, it was Chris who paid his way through art school and encouraged Don's only talent. Drawing pen and ink sketches of the rich and celebrated, he discovered success and, consequently, his own manifesto.
There were problems, separations, and sexual experiments with other bodies that would have severed weaker unions, but the older man's wisdom and the young man's refusal to abandon the best thing that ever happened to him kept Chris and Don devoted for a lifetime. When Chris was dying of cancer at 82, it was Don's turn to play the strength card. The son became the parent, the guardian, the nurse. Togetherness transcended even death.
Chris & Don. A Love Story does what a good documentary should. It informs the mind and broadens the horizon while never losing its entertainment value. Mr. Bachardy, now 74, has never lost his mischievous twinkle his ardor, or his intoxication with life. He is the life force behind the film, and throws himself into every scene with zest. He is not play-acting, but there's an emotional rawness in his honest portrayal of himself that is affecting—whether he's speechless with ecstasy meeting his idol, Montgomery Clift, or caring and gentle visiting his older brother, a broken toy in a nursing facility after years of mental breakdowns. I must confess there's an unsettling melancholy at the heart of this movie. The sense of love and loss and grief and mourning left me profoundly depressed. Still, it's positive and funny, too. What moved me was not so much how Chris and Don turned the hot-button age-difference controversy to their advantage, but how their love transformed a shy, insecure boy who didn't feel he had much to offer the world into a man of pride and distinction with his own identity intact. Chris and Don proves there are all kinds of love in this lonely old world, and none of them are wrong.
rreed@observer.com