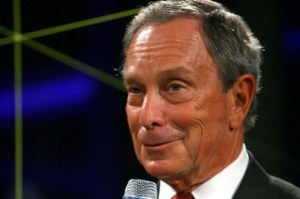 Mayor Bloomberg during his weekly radio show this morning talked about what he told a U.S. Senate committee on Thursday regarding the recent federal stimulus package. Mr. Bloomberg was testifying with the mayors of Jacksonville, Fla., Atlanta, and Kansas City, Mo., about the need for federal funds for infrastructure improvements.
I understand why we need them, but I thought the last stimulus package was, not a total waste of money, but a very inefficient way to get the economy moving. I likened it to giving a drink to an alcoholic. The problem we have in this country is we spend money we don't have and we spend it on the wrong things.
What we should be doing is what Roosevelt did back in the New Deal, where we created jobs but we used the work to build the infrastructure we needed for the next few years.
That's at about the 5:50 mark (listen to the archived WOR AM show here with host John Gambling). About 10 minutes later, Mayor Bloomberg suggested the possibility of a property tax hike now to cover shortfalls in the city budget. Better, he said, "a smaller one now, maybe," than a bigger one next year.