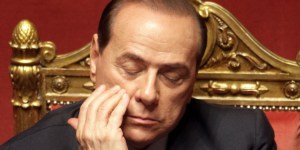 Italy's Prime Minister Silvio Berlusconi said today he wants John McCain to be the next president of the United States — because he's old.
"And this is for a very selfish reason, and that is that I would no longer be the oldest person at the upcoming G-8," said Berlusconi, referring to the annual meeting of the Group of Eight industrial nations, "because McCain is a month older than me."
Berlusconi, 71, swept back to power in April after the collapse of the center-left governing coalition. After several public fainting spells, and much talk that his time as the dominant figure in Italian politics (and business – he's one of the richest men in the country) had come to an end, Berlusconi spent much of the period out of office staving off newcomers by making gaudy shows of his virility.
If McCain is concerned about his age being an issue in the race, he might want to take a lesson or two from the blueprint of Italy's most media-savvy magnate. (What that lesson would be, exactly, is open to debate.)
The Berlusconi plan, executed in the leadup to his most recent election, for achieving eternal youth in the eyes of the voting public:
1. Sprout a nearly full head of black hair from a previously barren scalp.
2. Plead for forgiveness from the wife for flirting with showgirls, and then
3. get "caught" by paparazzi inside a Sardinian villa with several young showgirls.