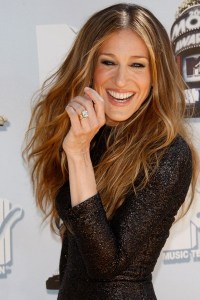 Now that the Sex and the City movie is finally behind her, Sarah Jessica Parker is ready to move on from the role of Carrie Bradshaw. But she's not straying far, characterwise.
Meet Ivy Ames, whom the actress will reportedly play in the forthcoming film The Ivy Chronicles.
She's an Upper East Side mom whose social descent is both literal and figurative: freshly divorced and given the boot at her job, Ivy moves downtown and transfers her kids from private to public school.
She then starts a business helping fellow middle-classers land a spot for their youngsters in elite kindergartens.
In real life she probably won't have much trouble with her own 5-year-old, James Wilkie.