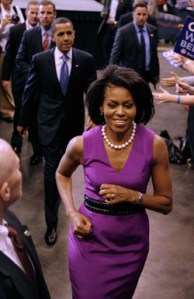 Another sign of a thaw between the Obama campaign and some of the powerful women who have long been allied with the Clintons: Michelle Obama will speak at a lunch for the National Partnership for Women & Children tomorrow.
The release from the campaign notes that Emily's List founder Ellen Malcolm and Cheryl Mills, who was deputy White House counsel under Bill Clinton, are both on the board of the organization and will be at the event.
Here's the announcement:
Chicago, IL – This Friday, June 20, Michelle Obama, wife of Senator Barack Obama, will speak at the National Partnership for Women & Families 2008 Annual Luncheon. During the luncheon, Michelle Obama will address the unique challenges facing America's working families.
In addition to Michelle Obama's participation, program participants include Debra L. Ness (National Partnership President), Ellen Malcolm (Chair of National Partnership's Board of Directors), Cheryl Mills (Board of Director member), Tammy Edwards (working mother), and Jennifer Hunt (working mother). They will discuss issues ranging from the Family and Medical Leave Act to quality, affordable health care.
The National Partnership for Women & Families is a non-profit, non-partisan advocacy group dedicated to promoting fairness in the workplace, access to quality health care and policies that help women create a balance between work and family responsibilities.