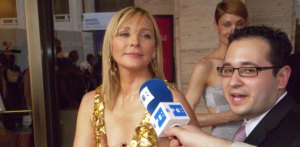 "It's very surreal," said David Chang, the hugely hyped hotshot at the helm of Manhattan's three Momofuku restaurants, about taking top honors as the city's best chef at the James Beard Foundation Awards at Avery Fisher Hall on Sunday, June 8. (The ceremony was hosted by Sex and the City's Kim Cattrall, who "flirted" awkwardly onstage with Mesa Grill's Bobby Flay and refused interviews.)
Mr. Chang had just bested a slate of industry vets, including Gramercy Tavern's Michael Anthony, Picholine's Terrance Brennan and WD-50's Wylie Dufresne. "Those guys are the rock and foundation of New York, and I'm just a young punk," he said modestly.
While many foodies were sniping about how such a young upstart earned a spot on the best-chef ballot to begin with, perhaps even more were gossiping about how Mr. Chang physically got to the ceremony: rolling up to the red carpet at Lincoln Center in one of two tricked-out party buses that he leased specifically for the evening's festivities. "We invited a lot of chefs," he explained. "Hopefully, guests don't realize that all the chefs are absent from the kitchens tonight."
Each 40-passenger bus—which cost a minimum of $2,100 apiece for the first six hours, according to the rental company, the Party Ride of Brentwood—came equipped with tinted black windows, custom black leather couch seating, disco lights, flat-screen TVs, surround-sound speakers and a smoke machine.
The mobile blowout began early. "We went to Daisy May's BBQ," Mr. Chang said. "My good friend Adam Perry Lang fed us and took good care of us. Then we were on our way here. … I don't know what's going to happen later; we'll see."
He rebuffed the Transom's humble request to join the rejoicing chefs on board. "What happens there is going to stay on the bus," he said.
cshott@observer.com