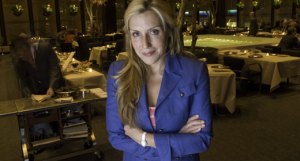 Remember that rumored $90 million listing at 15 Central Park West? It was nothing.
Dolly Lenz, New York City's most gargantuan real estate agent, broke astounding news at Portfolio's Four Seasons get-together this morning: "There are a few apartments on the market at 15 CPW, a new development on Central Park West, asking somewhere between $80 and $125 million–three different apartments–and one quietly on the market at $150 million," she said.
Wowzah. Brokers have already made it known that two condos in the Robert A.M. Stern-designed blockbuster building are being offered at $80 and $90 million, so Ms. Lenz's quote not only means that there's a third apartment on the market in the building for somewhere between $80 and $125 million, but that there's a fourth spread whose owner wants $150 million.
That would be more than any single-family residential property in New York City has ever asked for.
Could the hopeful seller be ex-Citigroup king Sandy Weill? Hedge-fund overlord Dan Loeb? And could a $150 million asking price ever be met? "I think it's sort of becoming a little bit of Monopoly money," Ms. Lenz said this morning. "You look at the apartments and you say to yourself, 'Really?' That's my opinion."
And yet a $150 million apartment might not be as absurd as it sounds, considering that Donald Trump is selling his Palm Beach estate in a few weeks for $100 million–which, incidentally, Ms. Lenz knows a thing or two about. She hasn't yet answered an e-mail or phone call from The Observer, and her voice mail was full.