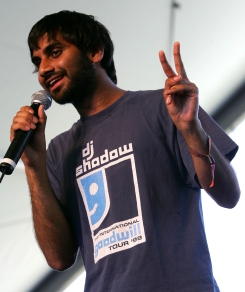 Producers are cobbling together a writing team for the new Office spinoff, and now an MTV sketch comedy actor has been chosen as the first cast member. Suit up, Aziz Ansari! Executive producers Greg Daniels and Michael Schur hired the MTV writer, executive producer and performer on Human Giant. Mr. Ansari also guested as a racist fruit vendor on HBO's Flight of the Conchords — and recently opened for the Conchords on a series of concert dates. He is currently in Albuquerque filming scenes for the upcoming Seth Rogen feature Observe and Report. He'll also be seen alongside Paul Rudd and Jason Segel in I Love You, Man. He'll get jokes from a writing team including Everybody Loves Raymond alum Tucker Cawley, Late Night With Conan O'Brien's Dan Goor and South Park scribe Alan Yang, according to Variety. Will Rashida Jones be joining the spinoff cast? Unlikely…
Despite early speculation that at least one "Office" character will segue to the new show, that's unlikely at this point.
Instead, the show could potentially be a "planted spinoff," in which characters are first introduced on "The Office" before moving on to the new series (think "Mork & Mindy," which morphed from one episode of "Happy Days"). It's just as possible that the show won't be a spinoff at all (which could impact who's involved with the show), but a wholly separate series in the same comedic vein as "The Office."
In recent weeks Daniels and Schur have been busy mapping out the show, which is set to bow this winter in the plum Thursday night 9:30 p.m. timeslot behind "The Office."
The two have narrowed the show's premise down to a handful of ideas but haven't yet zoomed in on a specific concept.
"We're focusing on making the best show we can make as a companion to 'The Office,'" Schur said. "We're trying to come up with the best concept and hire the funniest writers. In the next couple of weeks, we'll be making the final move to one specific idea."