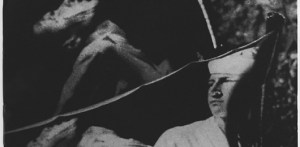 This weekend, Anthology Film Archives will debut three new short films by legendary experimental filmmaker Kenneth Anger. My Surfing Lucifer, which is a tribute to a surfer friend of Mr. Anger's named Bunky, and I'll Be Watching You, a found-footage piece that uses parts of a gay porn film to comment on voyeurism and scopophilia, will have their U.S. premieres, and Foreplay, which features found footage of male soccer players, will be shown for the first time ever, according to the cine/video-dance pioneer Amy Greenfield, who will be debuting several of her naked dance duet films as part of the "Cinema Dance Eros" two-day program.
Ms. Greenfield, who coordinated "Cinema Dance Eros" with Mr. Anger and her husband, Robert Haller (Anthology's director of collections), said the screenings combine themes of eroticism, ritualism and dance. It's little known that Mr. Anger was trained as a dancer, and incorporated dance into many of his films, Ms. Greenfield said.
"His work is much more involved with dance than people generally know," Ms. Greenfield told the Culture Czar, adding of this weekend's program, "It has to do with uniting the sacred and profane, and both of us are involved with that idea in different ways."
Mr. Anger, 80, is a former child actor who went on to become one of the most influential avant-garde directors of the 20th century. His macabre films, which blend sexuality and the occult with more colorful motifs like '60s pop songs, were hard to find until being released on DVD over the past few years. His most famous film, the chilling homoerotic biker epic, Scorpio Rising—which was partly filmed in Brooklyn on Halloween night in 1963—will be shown tonight. Mr. Anger, who lives in L.A., was originally supposed to make an appearance, but had to cancel. Last summer, he announced that he had prostate cancer, predicting that he would die on Halloween night 2008.
The full lineup can be found here.