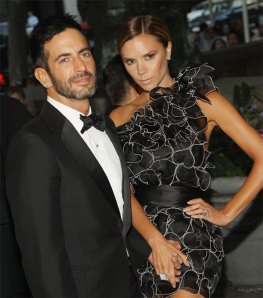 The Marc Jacobs ad showing Victoria Beckham peering out of a giant shopping bag and another in which she's swallowed up by the same, have been described as disquieting, daring, and modern.
The New York Times' Cathy Horyn wrote about the ads, which were created by photographer Juergen Teller, back in April. But in today's Daily Mail, a couple of months late, Liz Jones came out with a fresh theory about the images: The ads are actually making fun of Posh and she has no idea! Aha!
Ms. Jones compares the treatment of Ms. Beckham in the ads to a picked-on nerd: She believes she's cool for one second before realizing that everyone's actually laughing at her:
There she is in a giant, stiff shopping bag, in bug-eyed shades, a dumb expression on her face.
There she is, too, in another bag, like an obscene corpse, only her legs sticking out, in a pair of those patent, cantilevered pumps that are so difficult to wear they are probably what killed her.
And there she is striking a pose—arms out-stretched, one emaciated thigh peeping through a split in her skirt, a stupefied look on her pale face—that is a parody of all she stands for, seemingly worshipping at the altar of designer fashion.
And then comes this:
What we are seeing in these photographs is clearly a case of playground bullying.
The not-so-pretty, awkward, desperate-to-be-included nerd who so wants to play with the cool kids she will do anything to ingratiate herself—even against her better judgment.
Vogue magazine, when writing about this ad campaign, ventured that the pictures are 'brave' for someone so controlling of her image, adding confusingly, 'in the way fashion has of perverting the obvious to endow it with an edge and innovation, she looks, quite frankly, ridiculous'.
Victoria Beckham, for her part, insists that Marc Jacobs is a 'genius', and that despite being 'nervous' about the shoot, 'anything he wants is fine by me'.
We're not sure about this theory, but we do kind of love the way Messrs. Jaocbs Teller come out looking like the Mean Girls.