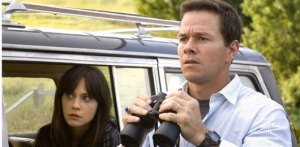 The Happening
Running Time 91 minutes
Written and directed by M. Night Shyamalan
Starring Mark Wahlberg, Zooey Deschanel and John Leguizamo
There's a moment in the boring, brain-dead new M. Night Shyamalan film The Happening when Mark Wahlberg turns to the camera, trying to suppress a grin, and asks, "Can this really be happening?" I ask the same question every week, but it just gets worse.
It's not a good sign when a director casts Mr. Wahlberg, a ruddy rapper-turned-actor who looks like a choirboy selling crack in the apse, as a science teacher pondering the mystery of why honeybees are disappearing from coast to coast. To be a good scientist, you must have a healthy respect for the laws of nature, he tells his class. I am paraphrasing Professor Wahlberg, of course. Nothing of real significance is worth quoting directly from any film written by M. Night Shyamalan. And you could stuff the entire plot of The Happening into a walnut shell. But thanks to the excellent cinematographer Tak Fujimoto, there are layers of atmosphere worth noting. Two women are sitting on a bench in Central Park when a curious breeze rustles the leaves. One of them reaches for a darning needle and rams it through her jugular vein. Cut to a nearby construction site where the same breeze reaches the hard hats, who leap from a tower scaffold above the city and crash to their deaths below. No, it's not fallout from the fleshpots of terrorism. According to CNN, that breeze carries airborne, brain-altering chemical toxins that are driving New Yorkers to mass suicide. The infected area is restricted to the Northeast, but it's spreading. (Nothing seems to be happening in Los Angeles, but how would they know?) When New York is evacuated, Professor Wahlberg and his wife (Zooey Deschanel) are invited to join fellow faculty member John Leguizamo to hide out at his mother's house in Philadelphia. On the way, the train comes to a grinding halt and the passengers are discharged in the forests of Pennsylvania. From this point on, a movie with so much potential for suspense just plods along, cataloging a chain reaction of violent copycat suicides as people blow their brains out and throw themselves into the lions den at the zoo. Taking refuge in an abandoned farmhouse, they run into a screechy, hysterical old crone (Betty Buckley) who smashes her head through 29 glass windows, but mercifully does not sing anything from Cats. In the end, the plague seems to have reached the Champs Elysées in Paris, threatening a sequel with subtitles.
What is going on here? The explanation may make you reach for a gun yourself. According to Mr. Shyamalan, it's simple: an extension of Al Gore's environmental warning that if we don't stop destroying our planet, then our planet will get even. For a movie with the potential for so much global-warming electricity, it's disappointingly low on voltage. How is it possible for one writer-producer-director hyphenate to raise financing for six films, when each one is worse than the one before? His premises are equally predictable and always the same: Unexplained psychic phenomena can happen to perfectly ordinary people. Trouble is, in a Shyamalan flick, an exasperating absence of requisite cinematic creepiness is always guaranteed. They don't make sense, and they are as empty in the center as a chocolate-covered cherry in which the assembly line left out the maraschino. They're so kindergarten-level scary that I always figure everything out early. Even The Sixth Sense, his only critical and box office success, was too obvious to rate even one surprise. Minutes after it began, when Bruce Willis entered the party and nobody spoke to or even looked at him, I said, "He's dead; they don't see him because he's a ghost." Some people are no fun at the movies.
rreed@observer.com