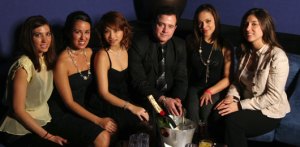 Veteran nightclub broker Alex Picken, founder of Picken Real Estate and Nightlife Brokerage, married his company's creative director, Pornthip "Jije" Sooksai, in a ceremony in Manhattan on Sunday.
Toasting his new bride later that night, Mr. Picken, 49, jokingly stuttered over the words "my lovely wife" — a term he said "most of you thought you'd never hear me say."
The newlyweds were introduced to friends and family to the tune of the Rihanna hit "Umbrella" during a boozy reception at Providence, a lavish, three-level, 13,500-square-foot nightspot at 311 West 57th Street, for which Mr. Picken served as site selector, negotiator and broker.
The happy occasion may have marked the notorious night owl's official retirement from bachelorhood — but "not the industry," he insisted.