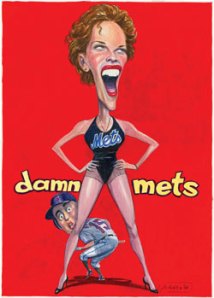 By John Koblin
The last days of the Willie Randolph era, much like the Mets' historic end-of-season collapse in 2007, were both tragic and horrible to behold.
On June 15, at the end of a long, seven-hour day at a stadium that will be pulverized and paved into a parking lot later this year, the Mets announced their attendance for a Father's Day double-header at 55,438. That was laughably deceptive.
Seats were empty all afternoon, and by the time the second game started—the Mets dropped the first half of the double-header to the Texas Rangers—it was quiet enough for the players to be able to hear the yelled suggestions of individual fans: "Carlos! Hit it to third base! They got a shift." There were about 10,000 people in the stadium.
By Gillian Reagan
Laura Green, 29, a busty brunette who lives in Sunset Park and sells scrapbook supplies over the Internet, was sitting in the N train on a recent smoldering Wednesday evening, sporting a Yankees cap and a coy grin. "What would you do to Derek Jeter?" she asked as the subway lurched over the Manhattan Bridge.
"Ugh—sooo many horrible things," replied her friend, who said her name was "Freda," that she lived in Queens and that her dad was obsessed with the Mets.
"Horrible as in good things," Ms. Green said, and sighed. "I could marry him!"