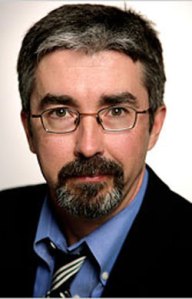 Understandably, when a newspaper has to make deep cuts in its payroll, columns like this crunch the numbers. How many pink slips, and in what areas?
But that is arguably less important than how the remaining staffers are reorganized to fill the gaps—or not.
The big victim in the last round of cost-cutting at The New York Times: Starting this month, the Metro section's regional desks are, essentially, dead. Local reporters who have been spared have been redirected and reassigned. Jersey general assignment reporter and poetry writer Tina Kelley will be "spending more and more of her reporting life online, busting rhymes here and there along the way," wrote Joe Sexton, the editor, in a memo sent last week to staffers. Newark reporter Kareem Fahim will become a Brooklyn reporter and last week filed a "Cobble Hill Journal" about an old mulberry tree that was in danger of being cut down. Paul Vitello, the paper's Long Island reporter, has been reassigned to the religion beat to the surprise of several Metro staffers. Alison Cowan, the paper's Connecticut reporter, is working "feverishly" on an "online document fantasy" of Mr. Sexton's, though he wouldn't explain any more than that. These moves come weeks after Trenton bureau chief David Chen was transferred to City Hall, after Cory Booker beat reporter Andy Jacobs packed his bags for Beijing, and after Newark reporter Rich Jones said he was leaving the paper to take a fellowship at Columbia.
Meanwhile, a Sunday institution, the weddings and celebrations pages in the Styles section, is also planning to scale back the number of wedding announcements it has in its pages after two staffers were lost from this year's round of buyouts/layoffs. "We contemplate a small reduction in the number we run compared with last year at this time," wrote Catherine Mathis, the paper's spokeswoman, "but last year represented an expansion of our columns somewhat from the historical norms in our pages."
"We ran 22 columns, with 39 announcements plus the Vows columns," she wrote, referring to the June 15 issue. "That is down slightly from last year in mid-June but typical of Junes prior to 2007."
The 39 announcements from last week's edition, and the 46 from this week, are consistent with totals the paper runs throughout the summer, however. Off the Record took two sample papers last year—August 12 and October 7—and found that they ran 38 and 48 announcements, respectively.
To make up for the loss of staff, Ms. Mathis wrote that Styles has "enlisted" four other staffers to contribute part-time to try to carry the heavy load this summer. One staffer, Andy Newman, a rewrite reporter for Metro, has been transferred to the Styles desk.
—additional reporting by Bharat Ayyar
jkoblin@observer.com