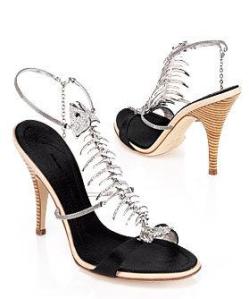 Steven Dann, owner of a shoe boutique in Great Neck, thought that maybe he could improve sales by carrying a variety of items featured in the Sex and the City movie.
He stocked shoes (including the Giuseppe Zanotti Crystal Fishbone Shoe, pictured here), belts and bags seen in the film, some retailing for as much as $4,295. And to advertise this, Mr. Dann designed an elaborate window display featuring a Manhattan skyline and pink neon sign that read, "Who's having sex in this city? Either way you need the shoes."
Unfortunately, not many residents in Great Neck found it cute.
According to Newsday, the residents found a loophole in the local law and sent Mr. Dunn a violation on June 3rd for sticking vinyl letters on his store window.
Mr. Dunn said that he never heard of the sign permit code being followed; a town commissioner, whom we quote here mostly because we like the bureaucratic language, told Newsday: "Probably, would he have followed the process, he would have been approved by the board of trustees," That'll teach you to go off half-cocked with sexy vinyl in a store window without the approval of the board! The commissioner said the order had nothing to do with the vaguely sexual nature of the sign, but Mr. Dann doesn't believe it."It's just an excuse because somebody found it offensive …. Everyone who passes by calls or stops in to say the window is amazing."