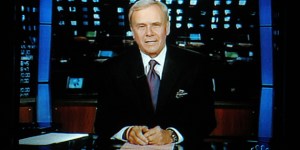 After digging through his extensive database and crunching the numbers, TV news analyst Andrew Tyndall has found that ever since 1991 when the late Tim Russert took over as the D.C. bureau chief for NBC News, his correspondents in Washington were significantly more productive than their competitors in terms of getting air time on the evening news.
"The DC bureau has been the backbone of NBC's journalism," writes Mr. Tyndall. "Each evening at the news hour, NBC Nightly News has relied on Russert's inside-the-Beltway corps of correspondents much more heavily than either CBS Evening News or ABC World News."
More from the report:
Tyndall Report
's data show that since 1991, when Russert took the chair at
Meet the Press
, his DC bureau has accounted for fully 30% of all
Nightly
's weekday stories, an annual average output of 1520 minutes, more than 25 hours. By contrast, the other two newscasts' DC bureaus were 23% less productive (ABC 1176 min, CBS 1165) in an average year. In those 17 years, NBC has had the busiest of the three DC bureaus in every single year save 1995.