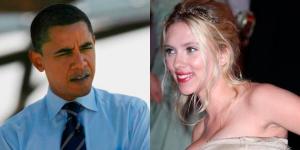 The Johansson twins are quite the Barack Obama enthusiasts. Hunter Johansson has recently left Manhattan Borough President Scott Stringer's office to be a campaign organizer for the Obama campaign, while Scarlett has publicly said that she regularly e-mails with the candidate.
"You'd imagine that someone like the senator who is constantly traveling and constantly 'on' – how can he return these personal emails? But he does, and in his off-time I know he also calls people who have donated the minimum to thank them," she told Politico earlier this month, adding that he once wrote about the infamous ABC debate, that the questions he was asked were "silly."
But now comes word from The Washington Post's The Trail blog that the senator is denying the relationship! Speaking to reporters aboard his campaign plane, he said the actress does not in fact have his personal e-mail.
"She sent one e-mail to Reggie, who forwarded it to me," said Mr. Obama, referring to his 26-year-old personal assistant, Reggie Love. "I write saying, 'thank you Scarlett for doing what you do,' and suddenly we have this email relationship."