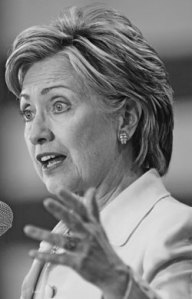 The line outside Baruch College for Hillary Clinton was like a cheerful catastrophe. People on cells, checking the latest; exchanging theories; the word "delegates" swept through the crowd. But it was no funeral.
The supporters waiting on a line that stretched from East 24th Street and Lexington Avenue up to East 25th Street (and around the corner), apart from the whole Cloverfield-9/11 echo, looked very much like an Obama crowd. Young and old and gay and brown and white: "I'm from Brooklyn and I'm a Hasidic Jew," a Hasidic Jew told a Japanese reporter very slowly.
The entire block was encircled by TV vans and trucks belching heat.
Crowds gathered across the streets to watch the crowds. People chanted, "Denver! Denver! Denver!" They were referring to the convention. "Take it to Denver!" a woman shouted.
But what did they expect to hear from Senator Clinton inside? "I'm not sure!" said Kathy, an older woman who lives on Union Square. "I'm trying to figure out how we can keep McCain out of the White House without a merger."
Mrs. Clinton's bid for the Democratic nomination is effectively over, but her political career, even now, is still barreling onward. The immediate next steps will be to negotiate the terms of withdrawal and to sort out a general-election campaign role. (And then, no doubt, she'll have a star-studded Democratic "unity event" of some sort at which she'll be lauded as no runner-up has ever been lauded before.)
She could, if her supporters have their way, end up on an Obama-Clinton ticket. Failing that, she'll be back in the Senate.
Even then, though, she would not return as just another senator.
While Mrs. Clinton's primary bid is ending in defeat, the way she lost—with a lock on certain core demographic groups, with unwavering aggression and durability, with an expansive national network of voters and donors—seems only to have enhanced her celebrity brand.
"If anything, she's gotten a lot of admiration for being tough, hanging in there, and for just going—she's like a tank," said Representative Peter King, a Republican from Long Island who knows the Clintons personally. "It's not like the other people when they go to primaries—they lose and they're gone. She is still a very, very powerful, powerful force in American politics."
Nationally, her campaign has helped to develop a sense of political individuality, giving her an image apart from Bill Clinton's.
"The most important thing that happened to Senator Clinton in the past year is that she is no longer in the shadow of her husband," said Simon Rosenberg, a Democratic consultant who heads the New Democrat Network and who worked on Mr. Clinton's presidential campaign. "She is a national leader in her own right, and I don't think that was true before."
If Mr. Obama were to lose (without her on the ticket), she'd be in prime position to contest for the nomination in 2012. If Mr. Obama wins, she could conceivably create her own power base in the Senate, growing, in the reckoning of her colleagues, to assume a Ted Kennedy-esque role among the Senate Democrats as an orchestrator of great compromises and landmark laws.