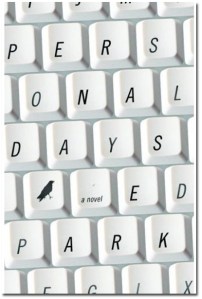 PERSONAL DAYS
By Ed Park
Random House, 241 pages, $13
I VOLUNTEERED TO REVIEW THIS novel by my former Village Voice co-worker Ed Park because I assumed the conflicts of interest would be so blatant they'd implode—a roman à clef, in which I myself might play a minor role, about the alt-weekly where I got fired the same day young Ed did. But it wasn't that simple. If this is indeed a roman à clef, nobody gave me the key. Even when I was editing a section there, I never kept up with Voice gossip, and what little I know suggests that aside from a few management butts, who are rendered with admirable sympathy, these young characters are heavily fictionalized, imported from elsewhere or altogether invented.
Moreover, Personal Days never references the alt-weekly trade. Physically, the office is The Voice's, which had a ghost-town feel years before the paper was finally eaten up by New Times Inc. (now Village Voice Media) in early 2006—that elevator, what a bummer. The fear and trembling that pervaded the place toward the end is also familiar. But hoping to universalize his theme, Park never specifies how the unnamed business he describes brings in revenue.
Personal Days is about a, or the, workplace—and also, I suppose, alienated white-collar labor. This is problematic. Maybe insurance firms are like real estate firms are like marketing firms, although I doubt it. Newspapers are different—in their rhythms and pretensions, magnets for the kind of prematurely weary hipster-idealists who populate Mr. Park's novel. Even in New York, ordinary industries don't commonly employ many such folks.
As compensation in kind for its relatively abstract characterization and theme, Personal Days is diligently schematic and long on wordplay. There's a fine running joke about three-syllabled theme restaurants—Herringbone, Demagogue, Parapet, Gondola, Aquifer, Schüssmeister's—and a lot of funny stuff about computers: an incriminating e-mail sent to your boss because you mistyped a letter and your address book took over; fonts with names like Lemuria and Braggadocio; a plot-turning voice-recognition program called Glottis. The deposed co-worker's notebook full of brutal homilies from imaginary win-the-rat-race books is a satirical tour de force.
For 190 pages Mr. Park's narrative is deliberately choppy; he goes so far as to present his second section in outline form. This choppiness evokes with some poetry the disconnected lives of the half-dozen singles who spend most of their waking hours together suspecting deep down they'll never see each other if—no, when—their jobs end. But this former literary editor is nothing if not writerly, and the ending of his novel is another tour de force—a one-sentence, 50-page plot denouement cum love letter the worker who survives the purge touch-types on his "craptop" in that elevator, unlit and marooned.
I dreaded that sentence. But though it ain't Molly Bloom, I read it in one short and one very long gulp. To me, its impassioned rhythms—so unlike most newspaper rhythms, though at The Voice sometimes we tried—bespeak Mr. Park's deep-down belief that white-collar laborers needn't lead alienated lives.
Robert Christgau is a senior critic at Blender and a critic for All Things Considered. His Consumer Guide to CDs is featured monthly at MSN.com. He can be reached at books@observer.com.