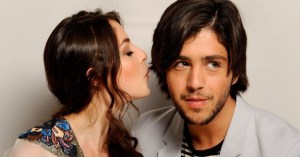 Olivia Thirlby has been busy since her appearance as Ellen Page's best friend in Juno.
There is her role opposite Ben Kigsley and Mary Kate Olsen in The Wackness (out July 3rd), Safety Glass with Steve Coogan and The Dream of the Romans with Lauren Graham, both in post-production, the delayed Kenneth Lonergan drama, Margaret, and the yet-to-be-greenlit Jack and Diane, a lesbian picture to be done with Ms. Page.
But then there is also Judd Apatow's Pineapple Express for which Ms. Thirlby was briefly cast and then dropped.
In an interview with New York Magazine this week, Ms. Thirlby says, "I don't know if I'm going to see it. I got cast as Seth [Rogen]'s girlfriend. And I'd been rehearsing with them for a little while and they called me up and were like, 'Actually, we're going to recast your role.' So I'm minorly, minorly ticked off."
Ms. Thirlby, 21, grew up a Manhattan girl on Avenue B, attending Friends Seminary school, but was one of the few of her classmates that opted out of college in favor of an acting career. For her interview with the magazine, she arrived wearing the following:
"Her shoes: moccasins. Her nails: French's-mustard yellow. Her pants: high-waisted "sultan" sweats ("They manage to combine my two favorite prints, leopard and paisley, in one. And they're blue!"). Best of all is her top: her dad's classic Keith Haring "dancing TV" T-shirt, complete with a hole in each armpit, "so I'm never in doubt where I stand, hygiene-wise." Then she adds, "This T-shirt was born in 1983, three years before I was. You should be interviewing my T-shirt. I bet it's seen some amazing things."
And then there is the question of her finances, which were inevitably hurt by being dropped from the Apatow picture. In the piece she complains about taxes, agent fees, publicist fees, and rent at her West Village apartment.
"I probably shouldn't discuss my finances, but I'm poor!" she says. "I wish I lived in Bushwick and was paying $650 a month for a crappy sublet."