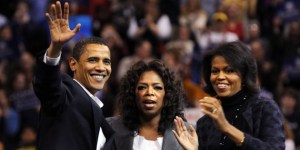 When Oprah Winfrey endorsed Barack Obama, she probably didn't expect him to snag her personal chef once he went off to the White House.
Gael Greene is reporting on her Insatiable Critic blog that the Chicago-based chef Art Smith, employed by Oprah as her personal chef for a decade, may become Sen. Obama's personal chef if he gets elected.
This past Sunday, Mr. Smith reportedly catered a Mexican meal for Sen. Obama, and Mr. Smith's friends are wondering if he might be asked to take over the White House kitchen. But, his "confidantes" say that he would agree to handle special events, but not daily meals.
Is there a code for stealing somebody's chef, even if it's part time?
Mr. Smith has won two James Beard Foundation awards, has penned two cookbooks, Back to the Table and Kitchen Life, and has previosuly cooked for former Governors of Florida, Bob Graham and Jeb Bush as well as Brazilian artist Romero Britto.