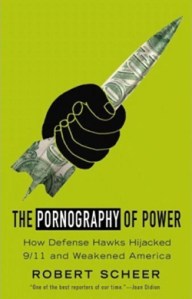 The topic today is an adversary that poses a threat, a serious threat, to the security of the United States of America. This adversary is one of the world's last bastions of central planning. It governs by dictating five-year plans. From a single capital, it attempts to impose its demands across time zones, continents, oceans and beyond. With brutal consistency, it stifles free thought and crushes new ideas. It disrupts the defense of the United States and places the lives of men and women in uniform at risk.
"Perhaps this adversary sounds like the former Soviet Union, but that enemy is gone: Our foes are more subtle and implacable today. You may think I'm describing one of the last decrepit dictators of the world. But their day, too, is almost past, and they cannot match the strength and size of this adversary.
"The adversary's closer to home. It's the Pentagon bureaucracy."
The speaker was Secretary of Defense Donald H. Rumsfeld. The venue was the Pentagon. The date was Sept. 10, 2001.
Oh, what might have been, had American Airlines Flight 77 not plowed into the building the very next day, triggering the start of the Bush administration's "global war on terror," that obscene boondoggle that has cost our country more dearly than the hundreds of billions squandered by the monolithic adversary Mr. Rumsfeld planned to confront.
For a clear, cogent and proudly partisan account of how we went to war "not against the enemy that existed but rather the one devised by the military-industrial complex," see Robert Scheer's The Pornography of Power: How Defense Hawks Hijacked 9/11 and Weakened America (Twelve, $24.99). It's enthralling and completely convincing—especially if you're already convinced.
NEAR THE END OF A FINE NEW essay in the Guardian (books.guardian.co.uk) on the brilliant, erratic Ford Maddox Ford, Julian Barnes trots out this intriguing anecdote:
"About 10 years ago, while writing about Ford, I ran into one of our better-known literary novelists, whose use of indirection and the bumbling narrator seemed to me to derive absolutely from Ford. I mentioned this (a little more tactfully than I have stated it here), and asked if he had read Ford. Yes, indeed he had. Would he mind if I mentioned this fact in my piece? There was a pause (actually of a couple of days) before the reply: 'Please pretend I haven't read The Good Soldier. I'd prefer it that way.'"
So … who is this ungenerous literary novelist, so unwilling to acknowledge a debt? My money would be on Kazuo Ishiguro, whose Remains of the Day (1989) is obviously related to The Good Soldier. Mr. Ishiguro's self-deluded butler, Stevens, is at the very least a collateral descendant of Dowell, Ford's radically unreliable narrator—probably they're even closer kin. And yet Mr. Ishiguro never seemed to me the kind of guy who'd turn his back on family.
GROOVY—THE WORD POPS INTO YOUR head the moment you lay eyes on Alastair Gordon's Spaced Out (Rizzoli, $65), a dazzling romp through the built environment of the tripped-out hippie, circa 1965. It's a rare coffee-table book indeed: both beautiful—an explosion of vibrant images of psychedelic structures, with half-naked commune dwellers blissfully flying the freak flag—and intelligent. Mr. Gordon is a wonderful writer, graceful, energetic, knowledgeable, and he brings to his exploration of Aquarian living a sympathetic heart and a coolly appraising head. He began his book, he writes, "in response to the culture of control that arose after September 11, 2001. It seemed like the right time to invoke a period of free-spirited, all-out independence."
Right on.