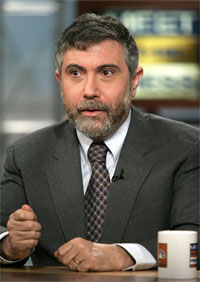 New York Times columnist Paul Krugman brings his considerable knowledge to bear on all things from the economy to intellectual property to the elections in his twice-weekly columns. But on his Times-hosted blog, The Conscience of a Liberal, Mr. Krugman also plays media critic for his own paper.
In an impassioned post titled "On Not Knowing Who," Mr. Krugman scolds his colleague Sarah Lyall for writing the following bit about British TV series Dr. Who:
The show followed the adventures of a time-traveling character whose spaceship was cunningly disguised as an old-fashioned telephone booth and who saved the universe by means of immortality, brilliance, a mordant sense of humor and an array of useful enemy-thwarting devices.
"No, no, no!" Mr. Krugman scolds. "The TARDIS looks like a police box." (TARDIS stands for "Time and Relative Dimension(s) in Space.") He even provides a Wikipedia entry to back up his claim.