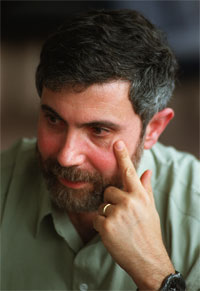 Paul Krugman just put up a post that's a pointed rebuttal to a statement made by Nicholas Kristof in a blog post of his own today.
Kristof argues that one of the reasons the media snoozed on the pre-invasion Iraq story is because Democrats didn't really attack Republicans on it. Without a fight in Congress, it's a tough story for the media to comprehend.
Krugman responds saying that that premise is "wrong":
Mainly, though, I'd like to question the premise. A majority of Democrats in the House voted against the authorization of force. It's true that only 21 Democratic Senators voted against, but here's a list of the "no" voters:
Sens. Akaka (D-HI), Bingaman (D-NM), Boxer (D-CA), Byrd (D-WV), Conrad (D-ND), Corzine (D-NJ), Dayton (D-MN), Durbin (D-IL), Feingold (D-WI), Graham (D-FL), Inouye (D-HI), Kennedy (D-MA), Leahy (D-VT), Levin (D-MI), Mikulski (D-MD), Murray (D-WA), Reed (D-RI), Sarbanes (D-MD), Stabenow (D-MI), Wellstone (D-MN), Wyden (D-OR).
This doesn't sound like an obscure group of backbenchers to me.
There were also huge antiwar demonstrations, which received stunningly little coverage.
So this whole business about there not having been a controversy, so the media had nothing to cover, is wrong. There was a controversy — but the news media by and large chose to ignore it.