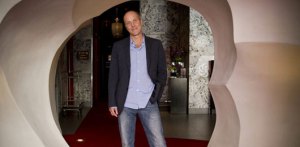 Paul Stallings, developer of the trendy Hotel on Rivington, isn't one for false modesty.
"I've been at the cutting edge of this neighborhood transitioning into what it is," said Mr. Stallings, 56, a former Wall Street lawyer who, in addition to erecting the area's premier boutique hotel, which opened in 2004, has been buying, building and renovating apartment buildings on the Lower East Side since the early 1980s.
Mr. Stallings owns nearly 400 units in the neighborhood. "Basically," he said, "you can throw a stone from the hotel and hit most of them. I'm a big fish in a small pond."
He's also building two hotels in Panama, a frontier as ripe as the edgy Lower East Side once was. "Certainly, when I did this [hotel], I was breaking new ground."
Indeed…
Some people thought he was crazy to stick an imposing, 20-story glass tower in a neighborhood full of low tenement buildings. But look who's crazy now.
A number of other developers have since followed suit. There's the oddly shaped 16-story Blue condominium on nearby Norfolk Street, of course, but also several other stylish hotels, including the 17-story Bowery Hotel, which opened in 2007; the 21-story Cooper Square Hotel, scheduled to open this summer; and, right around the corner from Mr. Stallings' own hotel, the 22-story Thompson LES hotel on Allen Street, expected to open this September.
Mr. Stallings isn't threatened by all the new competition, he said; to the contrary, he's excited to see the once-blighted neighborhood become "less of a brave destination" in terms of lodging.
"Even now, as well as I'm doing, I'm still trading at slightly lesser prices than some other hotels, like the ones in Soho," he said. (The Hotel on Rivington currently charges around $420 per night on average.) "To the extent that this becomes more of a mainstream destination, and that price differential begins to disappear, then I'm actually better served by having other hotels nearby."
Still, he's not stupid enough to simply stand pat while rival hoteliers roll out shiny new properties on his turf.
In today's hot hotel market, with an estimated 13,000 new rooms in the pipeline or already under construction, even a relative newcomer like the Hotel on Rivington can quickly become dated.
"That's certainly one of the reasons that you have to look at your room experience and make sure you keep it very sharp and cutting edge," said Mr. Stallings, who, for the past several months, has been implementing a number of improvements to his not-yet-four-year-old operation. "You can't afford to have frayed corners, so to speak," he said, "because everyone's looking for the new and the next."
Rooms on the upper floors are getting new carpets and bathrooms. The hotel restaurant, Thor, now has a new chef, Jesi Solomon, formerly of Stanton Social, as well as a new menu and Philippe Starck-inspired chandeliers in the dining room.
Celebrity-wrangling hairstylist Ricardo Rojas has opened a salon in the space formerly occupied by the hotel gift shop, and the hotel nightclub, 105 Riv, has undergone a massive renovation—complete with a newly installed stripper pole.
"My wife initially wasn't thrilled with that," said the married father of six, during a recent tour of the hotel's various refurbishments. "But she was one of the first to get up there.
"As I always tell people, I think you can be blind, deaf and dumb in the hotel business in New York for the last two years and you're doing quite well," he added. "Now, it's going to be an interesting brave new world in the next couple of years, as a lot of things come on line."
"I'M VERY AWARE that there are people that, no matter what I say or do in this space, they're not going to like me," said Mr. Stallings, who is viewed as either a neighborhood pioneer or pariah, depending on whom you ask.