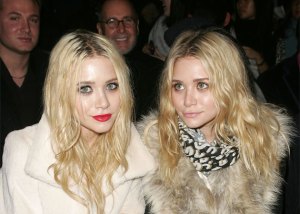 Last year, PETA (People for the Ethical Treatment of Animals) created a website called Meet the Trollsen Twins, featuring zombie-like renderings of the child actresses-turned-media moguls whom they nicknamed "Hairy-Kate" and "Trashley Trollsen." Users were encouraged to dress them in bloodied articles of fur clothing. The site's tagline said it all: "Fur coats are worn by beautiful animals and ugly people."
Now the organization is urging its supporters to take a lock of their own hair and send it to the twins for their 22nd birthdays this Friday with the note, "Please, use my hair instead of the animals. Happy Birthday."
PETA has been after the Olsens ever since they began to be photographed wearing elaborate furs to public events.
Dan Shannon, PETA's assistant director of youth campaigns, said in a release, "Mary-Kate and Ashley are old enough now to know that fur doesn't grow on trees. We hope that on their birthday, they will take a moment to think about the many animals who won't live to see another birthday thanks to the twins' abominable taste in clothes."