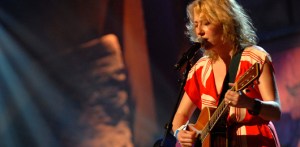 When Martha Wainwright talks about her hopes for her musical career, she tries not to wish for too much.
"I have expectations, but those are dangerous," she told The Observer. "I try to play things down so I won't be disappointed. I just want to sing my songs, have some fun and be stylistic onstage. But really … I want to get a washer dryer!"
The 32-year-old Ms. Wainwright doesn't have big plans to trade in her South Williamsburg apartment for something with a bit more tone, just to upgrade her laundry.
It's a humble, even self-effacing attitude for someone with a record to promote, but you get the impression that underneath the humility, there's more on the line than household time-savers, something like Ms. Wainwright's entire identity as an artist.
"I'm not afraid of being shown up," she said. "I'm used to it. Growing up with my family I had to drop that pretty quick. I'm a good songwriter and … one day I hope to be great."
The family she speaks of includes her father, folk-balladeer Loudon Wainwright III; her mother Kate, one half of Canadian folk duo Kate and Anna McGarrigle; and her brother, Rufus, an international superstar. Growing up jamming with such a crew would teach anyone humility.
Yet on her new album, the cheekily titled "I Know You're Married But I've Got Feelings Too," Martha Wainwright shows herself to be notable for her songs rather than her bloodline. As if to shake off the connections even more, she's newly blond, and appears onstage these days costumed and made up in what she calls her "war paint."
For the clan history, and for some of the reasons why Ms. Wainwright might want to stand alone, consult every article ever written about her. The fact that her fractured family made use of songs as a means of airing grievances over the years didn't help matters, nor that Ms. Wainwright's 2005 debut contained the song "Bloody Motherfucking Asshole," which she often introduced live as "a song about my dad," and indeed it was, about what a jerk he was to write about her … in songs. Anyway, the 30-year-long squabble, it was gleefully reported, was continuing apace! More disgruntled tunes from and among North America's most dysfunctional (and musical!) family. Yet few reviews managed to say much about the music, a delicate but confident set of folk and country-inflected tunes that chronicled, cleverly, feelings of inadequacy, struggles with vice and interpersonal disasters. On her first album, Martha talked (to excess) about how she smokes and drinks too much, how she is insecure, how she is self-destructive and how her dad is a Prick.
"I have a darker side," she admitted, "and I like to be provocative in my lyrics. I went to the edge of hurting feelings with 'Bloody Motherfucking Asshole.' But a song doesn't explain everything; meanings can change and the song can take on a life of its own." It seems that last bit inspired a lot about the new album. Ms. Wainwright explained that she wanted to break from the purely confessional mode.
Of course, when you see that the first two tracks are titled "Bleeding All Over You" and "You Cheated Me" it may be hard to swallow that Wainwright is no longer the same snarling, strumming, kvetching singer-songwriter as before.
Yet as soon as the first track begins, you realize you're on a different planet from the one Ms. Wainwright trod on her debut. "Bleeding All Over You" goes to a dark place, to be sure, incorporating that album title, but its strings, flutes and backup chorus over winding acoustic guitar open the possibilities for her voice to parry sweetly through the desperation with unexpected phrasing, unexpected grace. The folk and country is still there, too, but now augmented and joined with complex multitracked choruses, music hall melodrama and pure pop bliss.
"Some of the songs are old, some newer, but I mainly wanted songs that were very good," she said, "to bump things up a notch. I put pressure on myself. I had to push myself as a writer, which was really fun," she said. She also expanded the palette of her recording, using three producers, two mixers and a host of session musicians, mixing and matching, assigning the right player or engineer to the right track, and sometimes scrapping mixes that didn't work right.
Her voice is part Kate Bush, part Neko Case and part Stevie Nicks, and while such an abundantly gymnastic range can stun over an acoustic guitar, it can do much more over rich arrangements. Hence the second track, the startlingly poppy Fleetwood Mac-esque "You Cheated Me."
"It was an attempt at writing a pop song," she explained, "at sticking with the template and allowing myself to write lyrics that were real but also universal. On the surface it's about things a lot of people deal with, like how drugs, alcohol, and other self-destructive things are just ways of cheating on yourself."