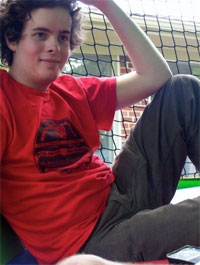 The New York Times ran an incendiary letter over the weekend, written by a 17-year-old from Birmingham, Ala., named Alec Niedenthal, who wanted to tell the editors of the Sunday Book Review that the future of literature belongs to him. Mr. Niedenthal, who graduated from high school last week and is preparing to attend the New College of Florida, used dramatic language to express this idea. This made him sound like a passionate, big-brained visionary.
"You've heard it straight from the tropical mouth of a teenager who is entirely conscientious of the metamorphoses in ideas, principles (or lack thereof) and influences being undergone right under your collective noses," Mr. Niedenthal wrote in his letter. "The next Great American Novel will come not from Pynchon, Wallace, DeLillo (he's already had his turn anyway) or any other of your literary heroes."
He went on: "It will spring from the iMac-fettered keyboards of the young, challenging, Facebook-and-MySpace-addled minds that you have so hastily jettisoned as literary jetsam, from those who see and comprehend, still to the delirious ignorance of the villainous Powers That Be, incalculable brands of grade-A terror being perpetrated unabashedly both by those whom we trust and those whom we loathe."
Mr. Niedenthal's rhetoric has not gone unnoticed: In the days since his letter appeared, he has received e-mails from editors at Grove/Atlantic and HarperCollins interested in seeing his work. (His father has also expressed his interest.)
Media Mob thought we should get familiar now, before he gets any more famous. Below, excerpts from a Q&A with the sad young literary man.
What was the purpose of your letter?
It was just sort of to let the current, older, wiser literary vanguard know that we're out there and that we're not all complete failures yet. I just wanted to let them know there's a new literary generation coming, I hope.
What do you like to read?
Right now I'm more into modern and postmodern stuff, not anything really contemporary. Like I'm reading Cloud Atlas by David Mitchell right now. I like William Vollmann, too … William Gaddis, Pynchon, John Barth, that stuff, mostly.
Are there young writers you like?
Keith Gessen – I really like him. I haven't gotten around to reading his novel yet. I read an excerpt from it. I just really like his ideas, just the way he portrays the sort of meandering young New Yorker. It's kind of what I aspire to be, so it's kind of really poignant. I'm really looking forward to reading that eventually. I just read the excerpt on the n+1 Web site, which I only heard about once his book came out and the hype about him started to circulate. He's really good. Also I like Scott Snyder. And who's that guy? I can't think of his name … Jonathan Lethem. I like him a lot. And Michael Chabon, of course. And David Foster Wallace, of course—he is absolutely incredible.
And do you think the editors of the Times Book Review just aren't paying attention?
They're not paying attention. … I think it's really hard for them to look outside of their own purview of the literary world. Not that I'm an expert or anything at all, but that's what I've gotten from reading it a good while, that it's very incestuous. I really enjoy reading it, but they could stand to step outside themselves a little. I'm sorry if that sounds elitist. They're all of a single mind-set, I guess. I don't know. I don't think I have enough experience to really comment because I'm so new to this kind of thing. But the old literary generation is going to die off eventually, and it's quite obvious that this new generation is going to be a lot more adventurous and experimental.
What do your friends read? Do you know a lot of young writers? Who is the "we" in your letter?
I don't really have any friends who are writers, or much of readers for that matter, but I do live in Birmingham Alabama, so … Honestly, I don't know [if New York is any better], because wherever you go there are still going to be kids who waste their lives. But there's definitely a literary set, if you will – the kids going to the bigger liberal arts colleges and stuff. I think that's mostly the next literary generation. … It's kind of intimidating because I didn't grow up in a literary setting at all. Neither of my parents are big readers at all. I'm kind of freaked out by the whole New York scene. It seems so … I don't want to say judgmental, but so … mutable. It changes so often. I can't keep track of it. It's kind of hard for me, because I don't want to follow any trends in my writing, but I do want to get published. But I don't want to sell my soul. It's all very intimidating.
How would you describe your fiction?
Recently it's far less so, but it's kind of bloviated – kind of lofty, I guess. Big sentences. My older stuff was basically just a knockoff of Gravity's Rainbow or something. And I used to be really into Joyce. It's all very dense but now I sort of make it more readable without sacrificing any of my ideas. And I'm working on something book-length now. I want to have that finished by the end of the summer, if I don't get tired of it and abandon it, which has happened like three times.
What's your hometown like?
I live in the suburbs. I live very close to the city, but it's not really a city. It's not bad—there's culture here. There's music. In respect to literature, though, there's pretty much nothing at all. I know David Sedaris came last year to read, and I think we have a poetry slam team here. But that's all.
What happened after your letter was printed?
I got contacted by a couple of publishers—Grove/Atlantic, and then Harpercollins contacted me, too. … The guy from Grove/Atlantic just said he wanted to see if I had anything book-length. And I said I'd probably have something by the end of the summer, if he wanted to see it then. And the guy from HarperCollins wanted to know what I was reading, and he wanted to see some of my writing, which was just really cool. And then I got a really, really sweet Facebook message from this girl in New Orleans, just some random person. She said, 'Thank God someone from our generation finally spoke up and out to the literary community and let them know that we are on our way.'