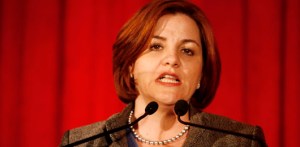 Christine Quinn took a shot at Albany lawmakers (none by name) for passing a bill she says will weaken the city's soon-to-be enacted law requiring stores to recycle their plastic bags.
"Yet again, it's Albany taking away our power," Quinn said in a brief chat with reporters in City Hall. "I fail to understand why the State Legislature wants to make New York City a less green city, and we urge the governor to stop them from doing that."
It's an opportunity for Quinn, a likely mayoral candidate, to fight on behalf of the city. Likely rival Anthony Weiner has long been seen as more aggressive than Quinn, and another likely rival, Bill Thompson has unloaded a series of audits that are critical of the city on parks and education.
Quinn said the difference between the bills is that the state version exempts larger stores. The state bill also reduces the kind of plastics that would have to be recycled, she said.
Peter Vallone Jr., who joined Quinn, said, "Albany has taken our law, which was a great one, and taken our ability to govern ourselves, and thrown it in the landfill."
Quinn said she is researching measures they could take to stop the state law from superseding the city law.