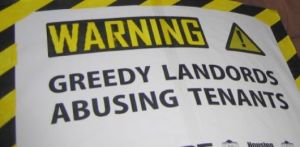 City Council Speaker Christine Quinn and another reigning populist in city government, Manhattan Borough President Scott Stringer, joined the media circus outside Cooper Union on Thursday evening to denounce the Rent Guidelines Board, right before the nine-member panel voted 5 to 4 in favor of one of the steepest rent hikes in years.
As of October, rents will increase by 4.5 percent for one-year leases and 8.5 percent for two-year leases. Tenant advocates and proponents of RGB reform claim the annual vote is little more than what Ms. Quinn called "a rubber stamp to rent increases every year," and have urged the board to come up with creative solutions.
This year the RGB moved beyond its usual cookie-cutter approach, by authorizing a flat-supplemental increase of $45 for one-year leases and $85 for two-year leases for tenants who have lived in their apartments for six years or more, in a move that is surely not what critics had in mind.
"The frustration you hear tonight is a real frustration," Ms. Quinn said during the rally before the vote. "People are here because they are sick and tired of a process that has become a farce. They are sick and tired of a process that no matter what the numbers show, yield rent increases year after year after year for landlords…
"This process is broken, it doesn't work… We need to create a new process. A Rent Guidelines Board where the appointees have to be approved by the New York City Council… An RGB that will no longer be just a rubber stamp to rent increases every year," she said, prompting the dozens of picket-wielding opponents of a rent hike to break into a chorus of, "Roll back the Rent."
Behind her a motley crew waved signs with slogans like "Reform Now! Open your Books," "Down with the Board," and "Rent Board Sham," creating a colorful photo op. Later on, inside the Cooper Union auditorium, one opponent of a rent hike even paraded a giant paper mache mold of what looked like RGB Chairman Marvin Markus' head.
Mr. Stringer must have read the same talking points as the demonstrators, because he opened his speech with: "All I can say tonight is welcome to the sham."
"Every year we come here and tenants get yelled at and scowled at," he said. (After attending three other RGB meetings this year, it's safe to say that the tenants do most of the scowling, though Mr. Markus does not hestitate to shut them up impolitely.)
"Once in a while they might get a friendly question," Mr. Stringer said, "but the bottom line is they do not get heard. The RGB doesn't go out and meet with tenant leaders; they don't go out and meet with communities. I quite frankly don't know what they do except hurt the tenants in this city."
The demonstrators erupted in a chorus of, "Down with the board. Down with the Board."
But a white-bearded, African-American man covered in buttons, a T-shirt, and a terry-clothe sweatband reading "Rent Is Too Damn High," hung back on the sidelines, shouting above Ms. Quinn and Mr. Stringer.
"Where were all of you Monday?" he yelled at the crowd. "They've already made up their minds now. You all must have had 1999 calendars."
The man's name is Jimmy McMillan, according to his Web site—where "Rent Is Too Damn High" gear is for sale—and he was one of about two dozen tenants at the RGB public hearing Monday, hamming it up for the cameras then, too.
After Thursday evening's speeches, the organizer opened the floor for questions and Mr. McMillan continued to bellow in the backdrop.
"You got questions about affordable housing, ask me," he said. "Christine Quinn doesn't know anything about being a tenant. She's here for political gain."
In stark constrast to the sparsely attended hearing on Monday, the line to get into the vote last night curved out the door, but Mr. McMillan hung back, admonishing the fair-weather demonstrators.
"I'll see you all on the Brooklyn Bridge when they raise rents," he yelled. "Don't jump."
There were a few landlords watching the show, too. As one owner of 18 buildings in Queens who refused to give his name attempted to explain the landlords' position to me, an elderly woman overheard and snapped, "Why don't you open up your books then?"
"Why are you yelling at me?," he asked. "I'm trying to have a conversation."
Like many of the other landlords, he believes that owning rent-stabilized buildings is a business.
"Am I breaking even? I'm making money, but should I be running housing and not making money?" he challenged. "You go to the gas station and you continue to put gas in your car and the price keeps going up. Why is everything allowed to go up, taxes, gas, everything, but not rent."
Midway through our conversation another landlord joined us. He owns 80 buildings in Lower Manhattan, and claims he's not interested in making more money, just maintaining a steady income.
"If the city needs rental housing, they need people like us who are going to operate the building," he said.
"But they need to make it worth our while. I can sell out to a company like Vantage or one of these big private equity funds that will come in, strictly run the building by numbers, not know a tenant by face and evict everyone and raise the rents."
Both men said they get approached with offers almost daily.